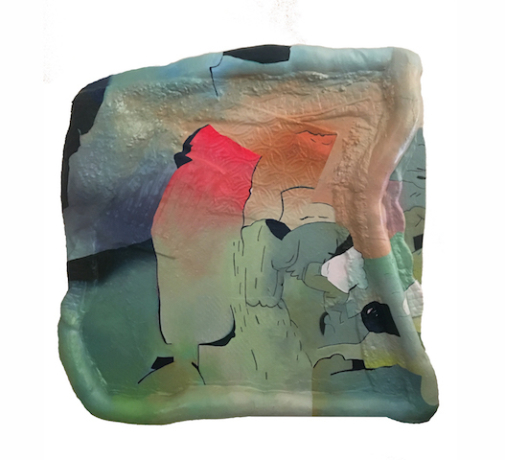 Exhibitions
AMELIA BRIGGS: WE ARE NOT TOGETHER YET
Amelia Briggs
Red Arrow Gallery presents: we are not together yet, a solo exhibition with Nashville-based artist, Amelia Briggs. we are not together yet combines two bodies of work, 'Inflatables' & The Small Green Plane series. Each approach feeds and often mimics the other with one rooted in drawing, the other sculpture. Artist reception and opening on August 12th, 2017 at 6PM in conjunction with the Eastside Art Stumble.
Centered on the phrase "we are not together yet," Amelia's work deals with the tensions that exist around a search for identity. She begins each piece with a simple line or shape, resembling rich visual cues associated with the graphic representations of comics, coloring books, and cartoons -- discretely operating as building blocks for a larger understanding. Through the breakdown of these various narratives, Amelia generates a new illustration, emptied of specificity. Similar to a found toy or long ago discarded personal object, Amelia hopes to generate a sense of presence, interiority and history. Each piece poses the question of what it is and what it means -- while certain details may evoke some semblance of recognition, complete understanding will always remain out of reach and incomplete.
The Small Green Plane series is comprised of prints on various fabrics, often silk, satin & faille. The term Small Green Plane references a literal small green plane and how it would exist in a cartoon or comic strip, suggestive of grass or land, almost functioning as a diorama – the setting where everything takes place. Her Inflatables are comprised of stuffed fabric on panel. Briggs began creating 3d paintings as a way to address each image as an object representing itself, rather than a window into another reality, hoping to mimic the bulbous shapes and forms in her drawing and painting onto the actual surface of the painting.
Amelia Briggs received her BFA from Indiana University and her MFA from the University of Memphis. Her work is included in collections in Indiana and Tennessee. She has exhibited throughout the Mid-South and Mid-West including, Herron School of Art and Design, Dixon Gallery and Gardens, David Lusk Gallery, Slocumb Galleries, Hyde Gallery, and The Martha and Robert Fogelman Galleries of Contemporary Art. This marks her first Red Arrow Gallery and Solo exhibition.