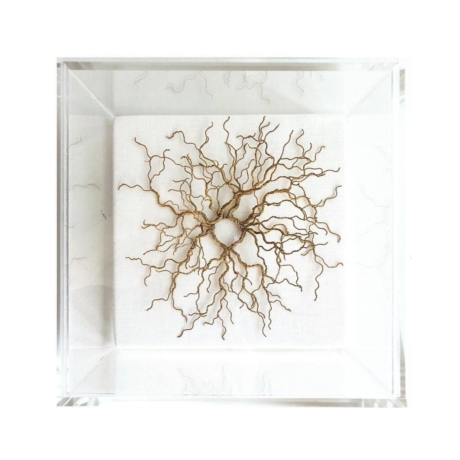 Exhibitions
AMÉLIE GUTHRIE: THE SPLENDOR OF THE LIVING
Amélie Guthrie
Red Arrow Gallery is pleased to announce a new exhibition, The Splendor of the Living, a solo show with Nashville artist, Amélie Guthrie. The Splendor of the Living opens on November 10th, 2018 at 6PM. The exhibition will run through December 2nd.

Amélie Guthrie is a self-proclaimed Sculptress and Light Artist. She bends and shapes small to large gauge wire into fractal forms that create free-standing sculpture, wall sculpture, light-sculptures, and site-specific installations.

The exhibition, The Splendor of the Living, includes wire sculptures that are integrated into shadowboxes, copper mirrors and a large-scale piece representing a Tumbleweed. From her artist statement:

"Loss or disrespect for life disturbs me, and the past few years have been especially heavy. I observe precious life-bearers such as children, people of color, immigrants, the disabled and sick, Nature and her creatures deemed unworthy of love, protection, or basic decency. This collection of artwork is my insistence that we treasure all living things, anything bearing the gorgeous Life-Force that binds us. While we may not understand, or relate to all members of existence, we are a family of precious life forms, all bearing the same sacred anatomy. In these veins of nature, I sculpt an invitation to defend the sanctity of life." - Amélie Guthrie, 2018

Amélie grew up in New Orleans before studying art history at Vanderbilt University. Thereafter, her adoration for art continued to flourish, and she worked in different pockets of the art world. Her work is included in multiple collections locally and nationally. This is her second exhibition and first solo show with The Red Arrow Gallery.