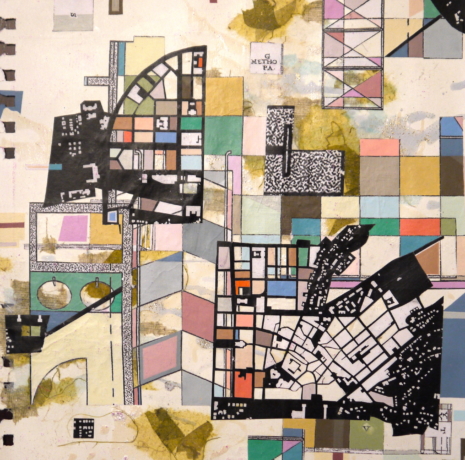 Exhibitions
ERIC MACK: ALPHA NUMERICS
Eric Mack
Eric Mack (b.1976, Charleston) creates mathematically based renderings with a distinct post-modern twist. Works are informed with super imposed grids, patterns, and portals. Layered surfaces are created with paint, found objects, natural fibers, and synthetic substrates that explore the systems of our visual world.
His most recent show "Charting the Terrain" is on view now at the California African American Museum in Los Angeles was covered by the Los Angeles Times, KCRW, and LALA Magazine. His last solo exhibition was titled "Impossible Architectures" at The University of North Carolina at Chapel Hill in 2017. Recent group shows include "Abstract Mind" at the Czong Institute of Contemporary Art, South Korea, "Small Works 2017 at Trestle Gallery, Brooklyn, "Checkered History", Outpost Artist Resources, Brooklyn, N.Y. 2015;
This Postman Collects, Clark Atlanta University Galleries, Atlanta 2016: "Hard Edged: Geometrical Abstraction and Beyond", California African American Museum, Los Angeles, California and "New Grounds" at The International Institute for Art & Theory, Mangalia, Romania.
Currently, Mack is exhibiting at The Hartsfield- International Airport in Atlanta, Canvas in Malibu and The Four Seasons Atlanta. He will also be a part of group shows in Brooklyn, and the University of North Carolina later this year.