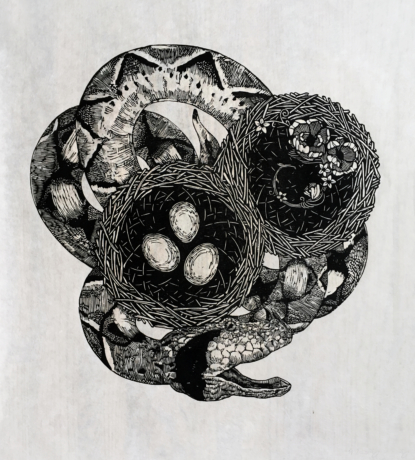 Exhibitions
ALL THE WATER WE HAVE IS ALL THE WATER WE HAVE EVER HAD + WE THE BEAST
Lauren Kinney & Patrick Vincent
Nick Stull
Red Arrow Gallery announces two solo exhibitions by three artists. Opening on June 9th, 2018, print-making collaborators, Lauren Kinney & Patrick Vincent present large-scale woodcut prints on Japanese paper titled We the Beast. Also in June, Columbus, Ohio native Nick Stull brings us All the Water We Have is All the Water We Ever Had, a series of portrait and figurative-based paintings.
---
Nick Stull | All The Water We Have Is All The Water We Have Ever Had
The sea charms us with sleepy memories of holiday travel, children's sandy footsteps, and gentle journeys by sail. The ocean sets the scene for our vacation photos: an open expanse, stretching beyond the horizon. Nick Stull's depiction of water subverts this general seduction, conveying urgency and confinement. The paintings in All The Water We Have Is All The Water We Have Ever Had present figures enclosed in their watery environments. The sea becomes claustrophobic, rather than expansive.

Nick Stull received his BFA from Ohio Wesleyan University in 2008. He has participated in multiple group and solo exhibitions across the state of Ohio and currently works as Exhibit Designer at the Wexner Center for the Arts. Stull's practice includes simultaneously producing large-scale murals, portrait commissions, graphic design, and the experimental figurative paintings exhibited in this show. When he has spare time, he hops in the nearest body of water and swims laps for inspiration. This is Nick's first show in Nashville and with The Red Arrow Gallery.
---
Lauren Kinney & Patrick Vincent | We the Beast
For centuries, the graphic traditions of woodcarving and printmaking have used presented imaginary figures and places to articulate the split between seen and unseen, reality and myth, waking and dream. Fairy tales dramatize and give shape to what is hidden and lives in shadow. A collage of fantasy and reality intersperse in these stories. The works of Patrick Vincent and Lauren Kinney celebrate this density, complexity, and wonder through large collaborative woodcut prints. Among other dichotomies, the woodcuts explore graphic space - negotiating suggestions of interior and exterior.

Lauren Kinney is originally from Santa Rosa, CA and Patrick Vincent, originally from Minneapolis, MN. The artists met in their MFA program for printmaking at Arizona State University in Tempe, AZ. Both of their work employed large-scale woodcut prints; hence, after leaving Arizona their work began to overlap as they began the collaborative project "We the Beast" in 2014. Kinney is a letterpress printer-designer at Hatch Show Print in Nashville, TN and Patrick Vincent is the Assistant Professor of Printmaking at Austin Peay State University in Clarksville, TN. This is their first show in Nashville and with The Red Arrow Gallery.