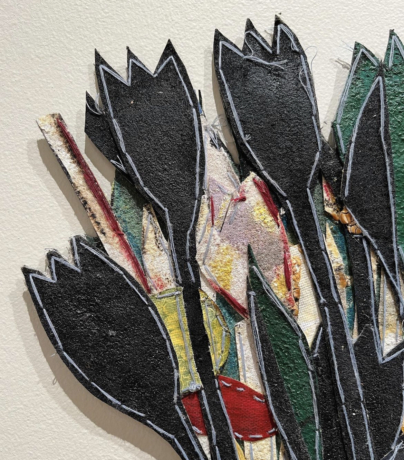 Exhibitions
ALICIA
Alicia Henry
Fisk University Galleries presents Alicia, a solo exhibition featuring works by Alicia Henry (Nashville, TN) spanning four decades and presented for the Tennessee Triennial for Contemporary Art (official venue). Curated by Jamaal Sheats.
Hours: Monday-Saturday, 10:00am-4:00pm

---
Over the last four decades, Alicia Henry's work has been widely exhibited and collected across the nation and abroad. On the campus of Fisk University, Henry has led the discipline of art and mentored generations of students, for which she is widely and affectionately known to all as "Professor Henry."
The monographic exhibition, Alicia, explores the complexities and contradictions of beauty, identity, and social constructs—including love, loss, play, family, community, isolation, and interaction. Her practice moves across various media, including sculpture, painting, drawing, and textiles. With them, she deconstructs, transforms, and layers materials such as leather, silk, felt, and yarn into figures. The surface forms a geographic ground that references the tradition of folk art and the traditions of the African Diaspora through tacking, stitching, quilting, cutting, tearing, dyeing, painting, shaping and molding. Each work emerges from the installation and responds to the unique identity of the space it occupies.
A native of Illinois, Alicia Henry earned a BFA from the School of the Art Institute of Chicago and an MFA from Yale University School of Art. Over the course of her career, she has received numerous awards, fellowships, and grants, including the Joan Mitchel Painter and Sculptor grant (2013), the Guggenheim Fellowship (2000-2001), and the Ford Foundation Fellowship (1989-1991); as well as residencies, at the prestigious Skowhegan School of Painting and Sculpture (1990), the Fine Arts Work Centre in Provincetown (1991-1993) Art in General, New York (2000) and the MacDowell Art Colony (1993). Additionally, Henry was notably awarded the 1858 Prize for Contemporary Southern Art (2016) and the Center of Excellence for the Creative Art Fellowship (2016-2017).
Professor Henry's work has also been the subject of numerous solo and group exhibitions at storied institutions, including the Kamloops Art Gallery, Kamloops, Canada (2022), the Power Plant, Toronto, Canada (2019), the Havana Biennial at Matanzas, Cuba (2019), Atlanta Biennial (2019), Cheekwood Museum, Nashville (2018-2019), Frist Museum, Nashville (2016); the Hunter Museum of American Art (2014), Tennessee State Museum, Nashville (2014), the Museum of Contemporary Art, Sydney, Australia (2013), the Pennsylvania Academy of Fine Arts (2013), South Bend Museum of Art, South Bend, Indiana (2004), the Nashville International Airport (2002), Aldrich Contemporary Art Museum (2002); the Whitney Museum of American Art, New York City (1997), and the Carnegie Museum of Art, Pittsburgh (1996).
Her work has been featured in numerous publications, such as Artforum International, ARTS ATL, New York Studio Conversations II, The Human Aura in Art, Nashville Arts Magazine, BURNAWAY, The Female Gaze: Women Artist Making Their World, Art of Tennessee, Taboo, and The Globe and Mail.
Professor Alicia Henry is currently a full professor of art at Fisk University in Nashville, TN.