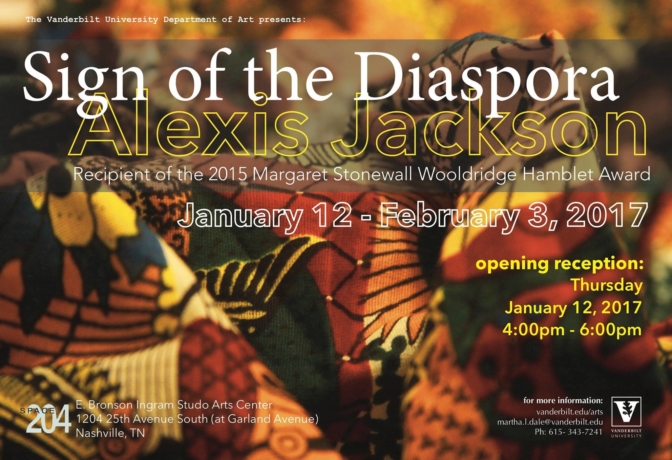 Exhibitions
ALEXIS JACKSON: SIGN OF THE DIASPORA
Alexis Jackson
The Vanderbilt University Department of Art proudly welcomes back and presents, Alexis Jackson, recipient of the 2015 Margaret Stonewall Wooldridge Hamblet Award and her exhibition, Sign of the Diaspora.
Alexis Jackson, recipient of the Margaret Stonewall Wooldridge Hamblet Award in 2015, graduated from Vanderbilt University with a double major in Studio Art and English. Her senior show piece, "1,437,201,654 Black Lives," served as a visual example of how capitalism, patriarchy, and heteronormativity impact Black lives.
Since relocating to New York City, Alexis has had the opportunity to work closely with other activists and artists while studying non-violent protest, civil disobedience, intersectionality, and movement leadership. She participated in the New York Arts Practicum, an arts institute where participants experientially learn to bridge their lives as art students into lives as artists in the world. She also spent time traveling in Johannesburg and Cape Town, South Africa. Alexis plans to continue to be involved in the thriving arts culture in her Harlem community.
Sign of the Diaspora is an installation in exploration of identity. Textiles and wax prints purchased from vendors of diverse nationalities in South Africa serve as a manifestation of dialogue between the artist and people of the African diaspora of various nationalities and backgrounds during her travel and time in New York's diverse neighborhoods. As a descendent of African slaves, this installation is intended to piece together pieces of the artists' own identity.
For more information on this Space 204 and the Margaret Stonewall Wooldridge Hamblet Award contact the Department of Art at Vanderbilt University at 615-343-7241 or visit www.vanderbilt.edu/arts.
To learn more about Alexis Jackson, please visit: http://www.alexis-jackson.com