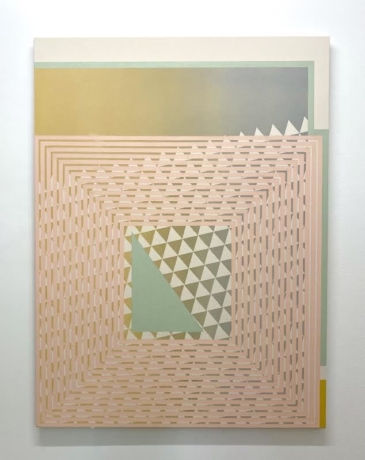 Exhibitions
ALEX MCCLURG: PRESENT
Alex McClurg
Present is a recent body of work that shows the development and exploration of my specific geometric vocabulary. I am still referencing and working with the ideas of geometric abstraction, quilts, book illustrations and the idea of displacement, but have pushed the scale. The patterns are intuitive and are generated in the moment, similar to the traditional way of designing a quilt. Creating these patterns becomes a meditative process. I want to allow the viewer to experience a similar meditative state while observing each piece as I do while making them.
About the Artist: Alex McClurg received his MFA in Painting and Drawing from the University of Tennessee Knoxville in 2013, and his BA in Studio Arts with a minor in Art History from the University of Alabama at Birmingham in 2010. His work has been shown in Puerto Rico, Alabama, South Carolina, California, Nebraska, Ohio, Tennessee, New Jersey, and New York. He lives and works in Birmingham, Alabama where he is the Lead Preparator at the Birmingham Museum of Art.
Image info: Alex McClurg, Present, 2021, Acrylic and spray paint on canvas, 48 x 36 in. MORE IMAGES AVAILABLE ON REQUEST
About the Gallery:
The Browsing Room is a non-commercial gallery created in the space of the historic DPC's old congregational library. The gallery serves as an extension of DPC's long standing studio community known as the Artists in Residence (AIR) who have studio spaces above DPC's chapel. The Browsing Room connects an art-seeking community with their AIR, as well as with other local and regional artists, by featuring a rotation of quarterly exhibits. The gallery is currently open by appointment only.