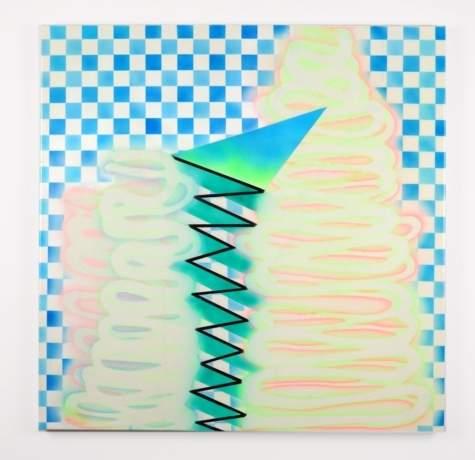 Exhibitions
ALEX BLAU: CHASING THE SUN
Alex Blau
Chasing the Sun is Alex Blau's third solo exhibition at Zeitgeist Gallery. Blau's new body of work represents a new stage of evolution in her continuing project examining the nexus of gesture, color and complex abstract space. Utilizing her distinctive mix of brilliant color, exquisite surfaces and complex visual gesture, Blau has produced some of her most dense and mystifying works to date.
Alex's geometric paintings draw from a variety of sources and have unexpected associations. By variously utilizing graphic languages and surprising paint applications, Blau's work both points to abstraction's open-ended possibility and highlights its incorporation into our shared culture. This exhibition will comprise over a dozen new canvases as well as a variety of works on paper. These works command the viewer's immediate attention and unfold with prolonged meditation of their strange and familiar landscapes.
Alex Blau is an artist and educator living in Nashville, TN. Alex has had solo shows at several venues, including Firecat Projects in Chicago, Gallery Seomi in Seoul, Mark Moore Gallery in Santa Monica, Kevin Bruk Gallery in Miami, Barbara Davis Gallery in Houston and the New Britain Museum of American Art. Blau is a member of the COOP Curatorial Collective and teaches at Vanderbilt University and Austin Peay State University.