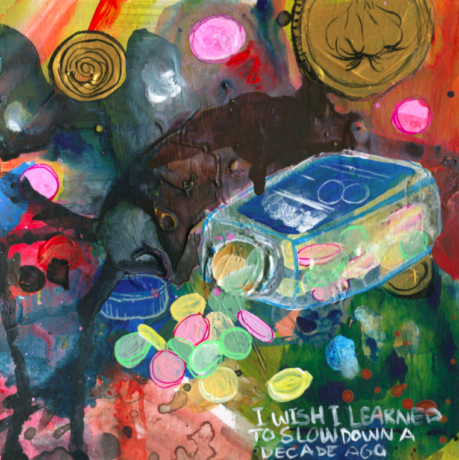 Exhibitions
AL COMFORT - WASNEWSKY: TOO MUCH NOT ENOUGH
Al Comfort - Wasnewsky
We are proud to present Al Comfort - Wasnewsky in her first solo exhibition in Nashville. Originally from Massachusetts, Al resides here in Nashville and is a graduate of Montserrat College of Art with a degree in illustration.
Inspired by JMG's Mark Mulroney exhibition last year, Al began creating works daily in a 5x5 format mimicking her cellphone which had become her source of entertainment and information. She created a series of works on deli lids, scrap labels and found objects using what was readily available.
Heavy laden with humor, absurdity, pop-culture references, politics and benign daily experiences, Comfort's Too Much Not Enough encapsulates a sense of confused amusement about the time in which it was created (quarantine).
A fascination with cryptozoology, insects, cartoons and a belief that everything is connected led to the 2020 publishing of her first book, M is for Mothman, an illustrated A-Z guide on Cryptozoology.