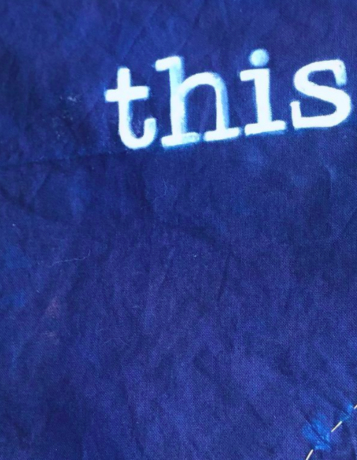 Exhibitions
NICOLE KUTZ: AIR_(SPACE) PROJECT
Nicole Kutz
Nicole Kutz is a painter and independent curator whose work has been exhibited in galleries, corporate institutions and private collections throughout the world. She received her MFA in 2017 from the Savannah College of Art and Design with a concentration in painting. Her work meditates on life's transience by using handmade pigments to create ethereal abstract worlds. She frequently draws inspiration from Wabi-sabi and ultimately finds beauty in the work's imperfections. In addition to her art practice, she was the Chief Curator of Loupe, an online art streaming service, and worked as the curatorial assistant for art advisor, Victoria Burns. Nicole currently resides in Nashville, TN.

Artist Statement:

When life feels overwhelming, my mother always says, "this too shall pass". The saying has become rather loaded for me – on one hand, it is a reminder that the dark times will be behind you, but on the other, it reminds us that our memories will someday fade.
The phrase has been on loop for me recently, as I have been struggling with change and feeling secure. My December flag pays homage to my current transitional state and represents the fleeting nature of our existence. Created using indigo dye on cotton, the piece is meant to change over the course of the volatile winter weather. It will eventually tatter, shrink, bleed and fade away. Yet in spite of being less equipped for this environment, it will still fly. It may look different, but perhaps by weathering the storms, it will become even more beautiful.
My hope is that the flag offers solace to those passing by and reminds them that all of our experiences, both good and bad, accumulate to create a beautiful existence.
---
AIR_(space) Project is an outdoor gallery space hosted by Unrequited Leisure Gallery and is located in the courtyard of The Packing Plant, in Nashville, TN. The works shown on the pole feature artists who explore the flag as a critical and topical medium and are driven thematically around issues related to both the environment and utopian / dystopian futures.