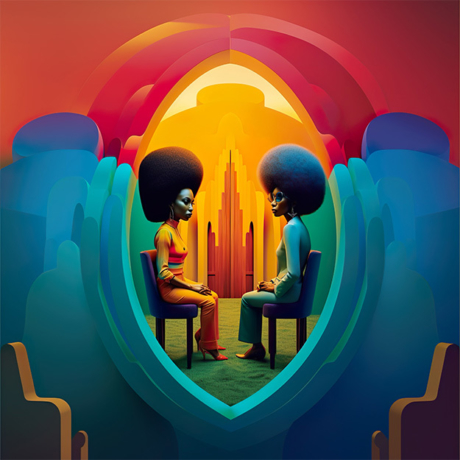 Exhibitions
AFROFUTURISTIC VISIONS: DREAMSCAPES OF SICASSO
Sicasso
The Frist Art Museum presents Afrofuturistic Visions: Dreamscapes of Sicasso, an installation celebrating African American culture and history through the AI-generated works of Nashville artist Sicasso. On view at the museum from August 11, 2023, through July 20, 2024, the exhibition is the second iteration of Project Uplift.
Installed in the elevator just inside the Frist's Ninth Avenue entrance adjacent to the Grand Lobby, Afrofuturistic Visions offers an immersive experience within a common, accessible space. The elevator's interior walls will feature vinyl prints derived from five of Sicasso's dreamscape environments.
Under the direction of student curator Samaria Jones, Afrofuturistic Visions is the second installation conceived through Project Uplift, an internship designed to offer a student or recent graduate from a historically Black college or university in Nashville an opportunity to curate, design, market, and develop a program for an installation featuring a local artist of color.
"As guests step into the elevator, they will be taken on a visual journey through African American figures representing power, resilience, and grace," says Jones. "In this retro-futuristic world, powerful Black characters take center stage, embodying strength, resilience, and creativity, exuding confidence and grace. Inspired by the vibrancy of the 1970s, each character is meticulously crafted to reflect the rich history and diverse heritage of Black culture, paying homage to icons such as Angela Davis while envisioning a future where Black excellence thrives."
Jones explains that the surreal landscapes within Sicasso's dreamscapes are an amalgamation of fantasy and reality. "Utilizing Midjourney via Discord, an AI image generator, Sicasso creates her stunning visuals by inputting descriptive phrases such as '70s African American couple in a groovy rainbow room.' She seamlessly blends the resulting psychedelic AI art with Afrofuturist elements, creating an otherworldly experience that stimulates the senses."
The Project Uplift internship was conceived to distill the curatorial process into a short period of time so students can gain exposure to all aspects of exhibition planning. While typical museum exhibitions may take years of planning, a Project Uplift installation is condensed into three months.
Photo: Sicasso. Split Worlds, 2023. Courtesy of the artist. © Sicasso