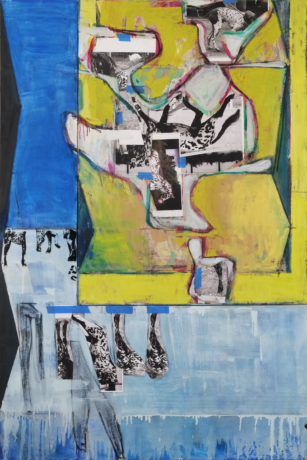 Exhibitions
A THEORY OF /CLOUD/
Terry Thacker
COOP is pleased to present new work by Terry Thacker, artist, educator, mentor, and a founding member of COOP gallery.

Loosely reflecting on the book, A Theory of /Cloud/: Toward a History of Painting (Cultural Memory in the Present) by Hubert Damisch, the pieces on view at COOP are a preliminary set of a body of thirteen works currently in progress. In his text, Damisch, considers the complexity of visual experience, the limits of linear perspective to express this, and "cloud" as a dynamic alternative opening up new approaches to pictorial space.
In the current work, Thacker also gives a nod to Wallace Stevens' poem, Thirteen Ways of Looking at a Blackbird, in which the poet contemplates multiple encounters of a singular form. In doing so, Stevens raises questions of the difference between experiences of a thing, the thing itself, and what can be communicated about it. In contrast and in conversation with these texts, Thacker specifies that "paintings and drawings are distinct, often unruly deformations of other kinds of texts. The politics of pleasure, erotics, play, seeing/experiencing (including time hiccups) are the arena of painting."
---
Terry Thacker has been an artist and educator for forty years. He is currently Professor of Fine Art at Watkins College of Art where he was department chair from 2006 to 2011. Also active as a lecturer and reviewer he has written for Art Papers, lectured at the Southeastern College Art Association, University of Oregon, and spoken at the Frist Center for the Visual Arts. Mr. Thacker received his B.F.A. from Austin Peay State University and his M.F.A. from the University of Tennessee, Knoxville. He later studied at Long Island University and was an associate at the Atlantic Center for the Arts with resident artist Alice Aycock. Mr. Thacker has shown in numerous national and regional exhibitions including exhibitions at the Frist Center for the Visual Arts, Brooks Museum, Hunter Museum, Dulin Gallery, and Cheekwood as well as solo installations at Vanderbilt University, Western Kentucky University, Murray State University, Alexandria Museum, and the Memphis Center for Contemporary Art.