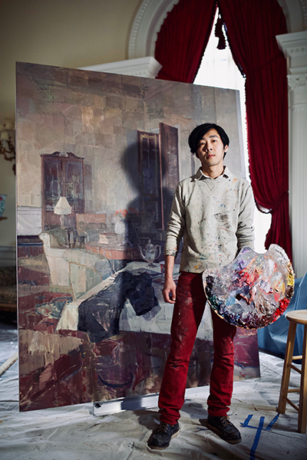 Exhibitions
2020 MARTIN SHALLENBERGER ARTIST-IN-RESIDENCE HIROSHI SATO
Hiroshi Sato
Hiroshi Sato was born September 1987 in Japan. From the age of three to fourteen he spent his childhood in Tanzania. His childhood exposure to alternate cultures, class, and language has served as a backdrop to his interest in human perception.
Hiroshi Sato is focused on contemporary realist oil painting. He is best known for paintings of figures in an interior environment. He draws influence from past and present artists including Vermeer, Degas, Andrew Wyeth, Euan Uglow, Hopper and Chuck Close. Sato's work shows his interest in geometric design principles of the old masters and is currently exploring the simultaneous illusion of form and flatness in space. His goal is to portray, and better understand our various states of consciousness within ourselves through the visual medium.
Hiroshi Sato's work has been featured in various publications such as Kunstenaar Magazine, Fine Art Connoisseur, Juxtapoz Magazine, Visual Art Source and Art Business News Magazine.