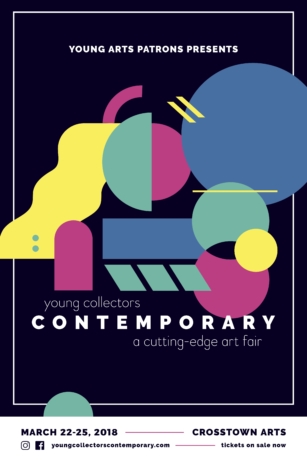 Exhibitions
YOUNG COLLECTORS CONTEMPORARY
Kid Bazzle, Jarvis Boyland, Elliott Jerome Brown, Zhiwan Cheung, Sean G. Clark, Jennifer Crescuillo, Joseph Love III, Meredith Edmondson, Jodi Hays, Leanna Hicks, Desmond Lewis, Tiff Massey, Emilie Stark-Menneg, Lena Murrell, Dawn Okoro, Daniel Peterson, Diedria Pigues, Kristen Rambo, Nate Renner, Robert Schoolfield, Anna Wehrwein, Christina Wiggins
Young Arts Patrons is pleased to present Young Collectors Contemporary, a four-day art experience.
Part exhibition/part immersive professional development seminar/part contemporary arts conference, Young Collectors Contemporary is a cutting-edge art fair that is multidisciplinary in scope. The goal is to expand the spectrum of emerging artists to new and existing collectors to support the arts economy.
The exhibition that goes along with the conference will remain on view at Crosstown Arts through April 28. After the ticketed events, the exhibition will be free and open to the public.