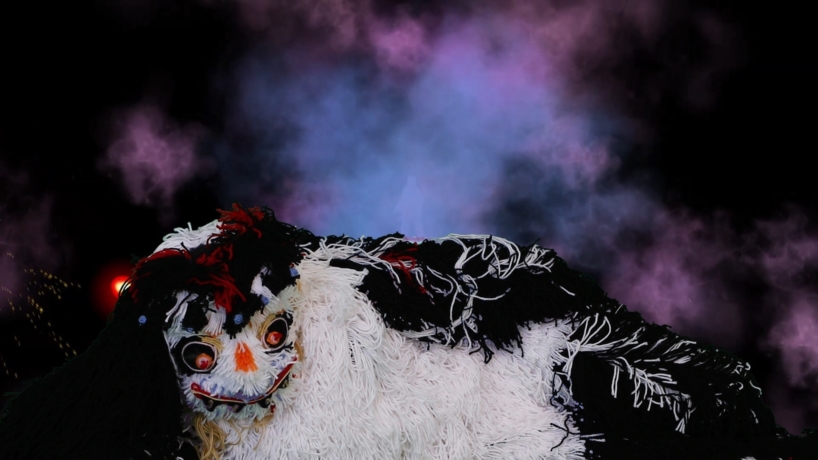 Exhibitions
WANG CHEN: THE SIN PARK
Wang Chen
Join us in the Screening Room at Crosstown Arts for a new exhibition of work by Wang Chen. Chen's work will also be exhibited on the pop-out walls in the East Atrium.
Chen Wang is a multimedia artist whose work incorporates installation, performance, drawing and animation to create digital videos that depict fantasy worlds with humanoid characters, whom she uses to examine gender, sexuality, and politics. By layering different mediums into one digital composition, Chen creates an overwhelming fantasy world of multiple, moveable layers and elements that together become unstoppable and continuously transforming as a way of considering the possibilities of imagined worlds.
In her videos, hand-sewn costumes fuse the human body into the virtual space where humanness blends in, dissolves, and potentially succumbs to the digital fantasy. As the costumed performer, Chen herself becomes a physical component of the worlds she creates, becoming multiple. These clones represent variously unstable identities: undefined genders, cartoonish humanoids, ghostlike apparitions and thus can adopt multiple identities, abstracting her own role as the artist-architect to become many things at once.
Chen's playground of electric city-space, neon landscapes, and nightmarish amusement parks becomes itself a representation, if not a fun-house mirror, of our own reality. The juxtaposition and melting of these dark yet fantastical scenes act as a playful reflection of Chen's complicated response and rejection of societal norms while constructing a new vision of gender and sexuality in our world.
This work may not be appropriate for younger audiences.
---
About Wang Chen:
Wang Chen was born in China and is a multimedia artist currently living and working in NYC. The installations that Chen creates begin with physical drawings. Chen makes costumes and props for her videos and builds unimaginable spaces using virtual reality. Chen received her BFA in Painting from Virginia Commonwealth University and an MFA in Photography from the Rochester Institute of Technology. Her work has been exhibited/screened internationally in China, UK, US, Sweden, Venezuela, and Greece. Chen has participated in several residencies including The Studios at MASS MoCA and the NYFA Immigrant Mentoring Program. She is the fellowship recipient of Roswell Artist in Residency, Vermont Studio Center and Nars Foundation.