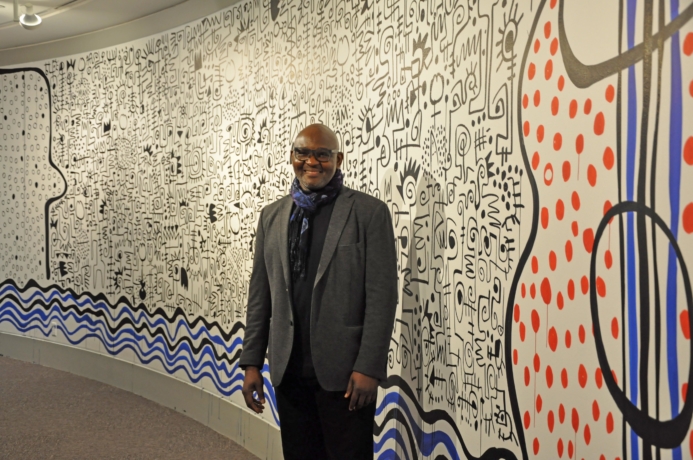 Exhibitions
VICTOR EKPUK: DRAWING MEMORY (ESSENCE OF MEMPHIS)
Victor Ekpuk
Victor Ekpuk, a Nigerian American artist, painted a mural for a new gallery, Arts of Global Africa, in March 2017. His art is inspired by nsibidi, a sacred means of communication among male secret societies in southeastern Nigeria. Evolving out of the graphic and writing systems of nsibidi, Ekpuk's art embraces a wider spectrum of meaning to communicate universal themes.
"The subject matter of my work deals with the human condition explained through themes that are both universal and specific: family, gender, politics, culture and identity," said Ekpuk.
The 58-foot mural is the beginning of the renovation of Arts of Global Africa, which will culminate in fall 2017.
"We are thrilled to be reinstalling the African Gallery with Drawing Memory as the centerpiece. Victor has been an artist in residence at museums across the country and visitors have been inspired and deeply moved by watching him work," said Chief Curator Marina Pacini.
Ekpuk's artworks are in such collections as the Smithsonian Institution National Museum of African Art, Newark Museum, The World Bank, Hood Museum, Krannert Art Museum, United States Art in Embassies Art Collection, and Fidelity Investment Art Collection.