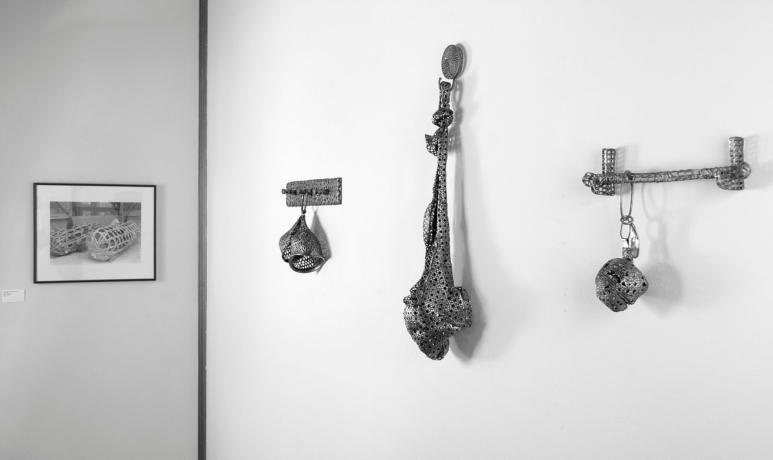 Exhibitions
VENETIA DALE: TRIBUTARIES
Venetia Dale
The Metal Museum is pleased to announce Tributaries: Venetia Dale, the next exhibition in the Tributaries Series. Tributaries: Venetia Dale will open on Sunday, May 27 and runs through Sunday, August 12, 2018.

This exhibition upends relationships of order to re-imagine objects made to support, aid, hold, or rest another thing. What purpose does a shower caddy have if not to prop soap and shampoo? By emphasizing their function, Venetia Dale takes supplemental objects and makes them into primary forms. Shower caddies support shower caddies, plastic baskets take on the gesture of bags, towel racks, link to door knockers. Recreating these common household objects in new materials such as pewter and copper further removes them from their expected context, allowing the viewer to reflect on how copious and socialized commodities are both receivers and bestowers of memory and imagination.
The work in Tributaries: Venetia Dale is characteristic of the artist's larger body of work. Venetia Dale uses pewter as her primary medium. She describes her process as "kitchen stovetop casting," as the material's low melting point allows for accessible, no-fuss making. Her studio is at home, and although she does not cook where she makes art, she is able to create her molds, cast and solder in her basementstudio. Venetia's interest in how things are made and our relationship to these things has driven her touse repetition of forms; mold making and casting are an exercise in economies of scale and form building,as cast parts become whole. Venetia uses pewter's rich history in objects of use in Colonial America aswell as contemporary kitsch souvenirs to question how we understand ourselves and our things in place and time.
---
Venetia Dale is a metalsmith and sculptor whose work explores shifts in utility, mobility and exchange between people, places and things. Venetia received her MFA from the State University of New York, New Paltz, NY in 2009 and her BFA from the University of Wisconsin-Madison in 2004. Venetia is exhibiting work this summer at the National Museum for Women in the Arts in Washington, D.C. She has recently shown work at Proof Gallery and Gallery Kayafas, both in Boston, MA, and the Bellevue Arts Museum in Bellevue, WA. Venetia completed an artist residency at the Oregon College of Art and Craft, Portland, OR in 2010 and an art and industry residency at the Kohler Company in Sheboygan, WI in 2013. She resides in Boston, MA where she maintains a studio practice and teaches at the Massachusetts College of Art and Design.