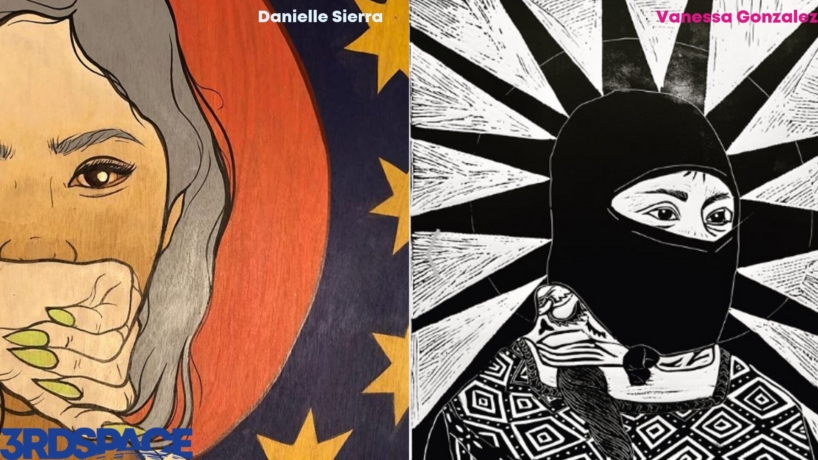 Exhibitions
VANESSA GONZALEZ & DANIELLE SIERRA
Vanessa Gonzalez, Danielle Sierra
3RDSPACE & LatinoMemphis cordially invite you to the public reception of Vanessa Gonzalez & Danielle Sierra at LatinoMemphis from 5:00PM-7:00PM.
Vanessa Gonzalez is a printmaker, ceramicist, and bookmaker who regularly incorporates mixed media into her work. Born in Texas and raised in Mexico, Gonzalez was always exposed to Latinx art and culture, which inspired her to become passionate about its rich cultural traditions. She currently lives in Memphis, where she earned her MFA at Memphis College of Art and currently works as an elementary school art teacher at a local charter school. Her artwork has been exhibited not only in the United States but internationally as well, in Mexico, Australia, and Germany.
Danielle Sierra is a visual artist from the small rural farming town of Avenal in California currently working out of Memphis, Tennessee in the Frayser community. She received her Bachelor of Fine Arts degree in Studio Art with a concentration in Painting at California State University, Fresno. She has participated in 20 group shows and has been featured in 4 solo shows from California to Tennessee. In 2009, she received "Best in Show" at her CSU Fresno Senior student showcase, She received an Honorable Mention in the "f I Can Dream" exhibit held at the Memphis Brooks Museum of Art in 2013. She was selected by the Collierville Tennessee Historical Society. In 2014 to conduct a solo exhibit at the Harrell Theatre. She has been artistically vocal in issues surrounding the Mexican community, participating in shows celebrating Latino artists such as Mi Sur/My South" at Crosstown Arts (Memphis, Tennessee) in 2014, "Estamos Aqui" at the Nashville Public Library (Nashville, Tennessee) in 2015, and "Here to Stay" at the L Ross Gallery (Memphis, Tennessee) in 2017. Danielle curated and exhibited in the two-year running art show "An Art(form) of Worship" at Crosstown Arts in 2016 and 2017. In its second year the show was highlighted in an excellent revue in the Memphis Flyer newspaper. In 2018 Danielle was chosen as one of seven local artists to participate in Urban Art Commission's District Mural Training Program, which provides mural training and professional development from MuralArts Philadelphia and culminates in each artist creating their own mural project in each of the seven Council districts. Danielle's work is inspired by the beauty found in the diversity of human beings and God the creator. Often combining the human figure with organic, architectural, costume, and floral elements to convey allegorical meaning focused on biblical themes. Her work is predominantly painted on wood, an homage to her father who started and continually inspires her art career. She continues to make art that focuses on being a visual language for her generation seeking to speak to a modern day about unchanging truths.
LatinoMemphis gallery is managed by 3RDSPACE as a part of the Art Advisory Program.