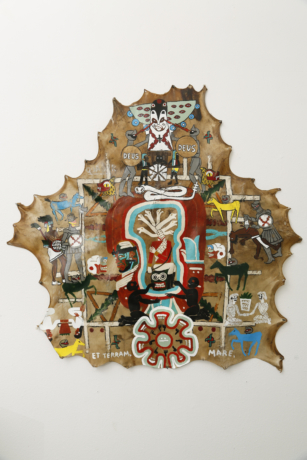 Exhibitions
UMAR RASHID (FROHAWK TWO FEATHERS): THE BELHAVEN REPUBLIC (A DELTA BLUES), 1793-1795
Umar Rashid (Frohawk Two Feathers)
Featuring the work of Los-Angeles based artist Umar Rashid (Frohawk Two Feathers) (b. 1976, Chicago), the exhibition advances Rashid's colonial history of the Frenglish Empire—a fictionalized empire of his creation that combines France and England. This chapter of Frenglish history, detailing events leading to the Belhaven Republic's attempted siege of Memphis, is the first to directly address chattel slavery within the empire and in the interior of North America. Influenced by the geography and culture of the Mississippi Delta, the exhibition marks Rashid's first time exhibiting in the American South and showcases new work created especially for the occasion.
The exhibition is a visual manifestation of Rashid's colonial narrative, one that adroitly weaves fact and fiction, historical past and contemporary present. His portraits, drawings, flags, maps, battle scenes, and other artifacts continue the long history of Frengland—an ongoing project Rashid began in 2006.
Artist Lecture: January 19, 11:30 am - 1 pm (3715 Central Avenue; Art and Communication Bldg. 310)
Rashid will speak about the many dimensions of his work, from re-imagining colonial history to contemporary affairs. He will be joined for a Q&A with LA-based art historian, writer, and editor Ellen C. Caldwell.
Rashid will also lead a walkthrough of the exhibition at 6 pm during the opening reception on January 20.