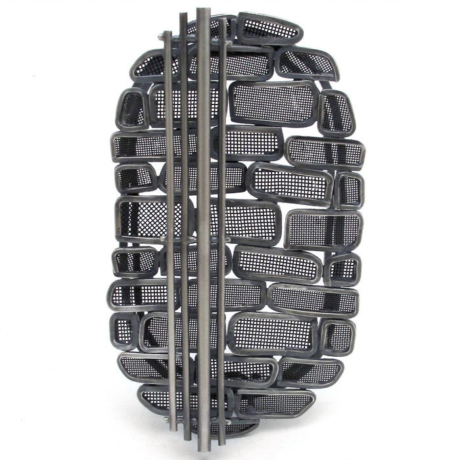 Exhibitions
TRIBUTARIES: CAITIE SELLERS
Caitie Sellers
The Metal Museum is pleased to announce Tributaries: Caitie Sellers, an exhibition that will be on view at the Museum from January 29, 2017 through April 16, 2017.
The Metal Museum will host an Opening Reception and Gallery Talk with the artists on Sunday, January 15 at 6PM.
Caitie Sellers has spent nearly a decade documenting through sketches her experiences living in different countries, states and cities. Having always felt like a foreigner while residing briefly in each new location, Sellers seeks to find the familiar among themes and ubiquitous materials such as brick, wire and asphalt. She transforms imagery of architecture and urban infrastructure into jewelry with her fine mastery of such materials as copper and silver.
"The pieces in this series are precious, sentimental and nostalgic, but they are not specific to one location. These places I've inhabited have become my story. The sketches document each chapter; the metalwork becomes the meaning," said Sellers.
Sellers received her BFA in Craft/Material Studies from Virginia Commonwealth University, Richmond, VA. Her awards and achievements include Spotlight Emerging Artist presenter at the 2012 Society of North American Goldsmith's conference, finalist for the Society for Contemporary Craft's LEAP Award, and Artist in Residence at Houston Center for Contemporary Craft. She is currently working to open a multi-discipline craft studio called The Elevator Collective with three Richmond, VA artists.
ABOUT THE TRIBUATARIES SERIES: The Metal Museum's Tributaries series provides solo exhibitions for emerging and mid-career metalsmiths. The name is derived from the Museum's location along the Mississippi River, as well as from the focus of the series - artists whose work is beginning to have a significant impact on the metal arts community.
ABOUT THE METAL MUSEUM: The Metal Museum is the only institution in the United States devoted exclusively to the advancement of the art and craft of fine metalwork. This is achieved through exhibitions, collections, conservation, restoration and consulting services, classes, internship opportunities, artists residencies and apprenticeships, research and onsite fabrication of artwork and architectural elements. http://www.metalmuseum.org/