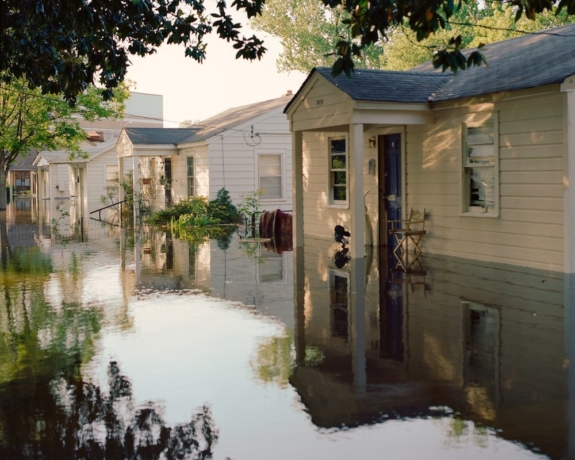 Exhibitions
TOMMY KHA: EYE IS ANOTHER
Tommy Kha
Tommy Kha: Eye is Another is a site-specific, photography-based installation by artist Tommy Kha exploring themes of identity, (in)visibility, and sense of place. Kha's installation considers the idea of the eye as an extension of the mind. The exhibition's title, Eye is Another, is a play on words inspired by the French poet Arthur Rimbaud who in 1871 wrote, "Je est un autre," sometimes translated as "I is another," or "I is an other." These words suggest that our identities are complicated, that our sense of self can be other even to us, and that we may have multiple senses of self—our own identities are both familiar and alien. These views of the self resonate for Kha—growing up queer and Chinese American in the American South—and influence much of his work.
The dome in the museum's rotunda features a photo-mosaic of an eye, composed of images of the sky from the two cities where Kha splits his time; Memphis and New York. Its shape is based on Kha's own eye while its blue color is borrowed from Elvis—an abstract continuation of the artist's earlier work featuring images of himself dressed as the famed singer. Surrounding the rotunda are Kha's large-scale photographic prints of the Southern landscape. Green shag rugs resembling grass are scattered around the rotunda floor to encourage visitors to lie down and "sky" gaze. In the center is a blanket printed with a photograph, itself composed of collaged photographed items, from a typical family meal with Kha and his relatives, creating a place to gather, rest, and contemplate.
Tommy Kha: Eye is Another, curated by the Memphis Brooks Museum of Art's Associate Curator of Modern & Contemporary Art, Dr. Patricia Daigle, is presented as part of the inaugural, state-wide Tennessee Triennial for Contemporary Art organized by Tri-Star Arts. The Triennial is guided by the theme "RE-PAIR"—to heal, suture, and recompose fractured bodies — authored by consulting curator Dr. María Magdalena Campos-Pons.
---
image: Tommy Khan, Canal, North Memphis, 2011, archival pigment print