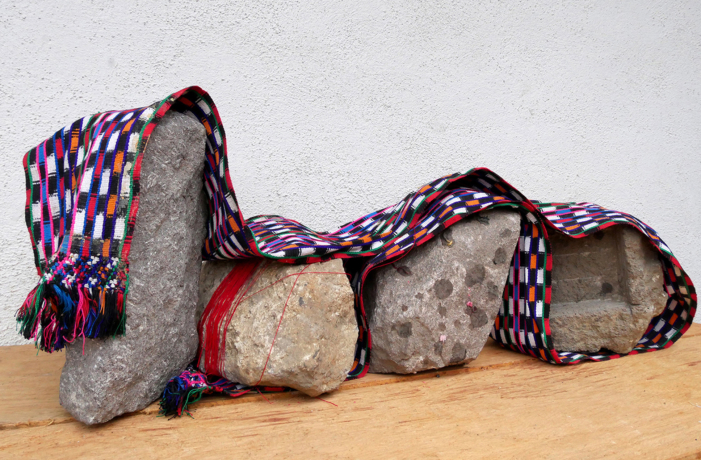 Exhibitions
TO WEAVE BLUE (POEMA AL TEJIDO)
Hellen Ascoli, Edgar Calel, Manuel Chavajay, Negma Coy, Sandra Monterroso, Antonio Pichillá
In the exhibition To Weave Blue (Poema al tejido), six contemporary artists and poets from Guatemala present work related to weaving. They consider the production of textiles as a site for knowledge, language transmission, and cultural tradition within Maya communities. Seen together, these artists' works in textile, video, poetry, performance, and installation encompass ways of understanding history, relationships, legacies of violence, and survival. The works also evoke non-Western models for art's place in everyday life, offering a narrative that exists independent of Western visual art's traditions.

To Weave Blue (Poema al tejido) is curated by Laura August, a U.S.-born writer and curator based in Guatemala City and Houston, TX.
Related programming:
- Hellen Ascoli "Tool as Place" performance: January 28, 11:30 am, Art and Communication Bldg. Courtyard
- In Conversation: Hellen Ascoli (artist) and Laura August (curator): January 30, 7 pm, Art and Communication Bldg. 310
- Exhibition Walkthrough and Coffee with Curator Laura August (in Spanish and English) and artists Hellen Ascoli and Antonio Pichillá: February 1, 1:30 pm, Fogelman Galleries
All events and programs are free and open to the public.