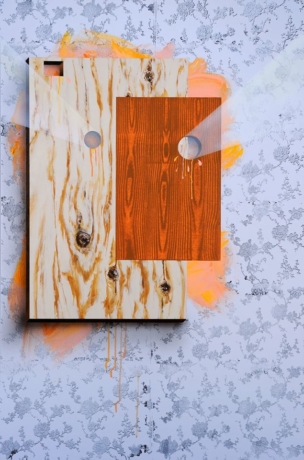 Exhibitions
THE ONE WHO LOOKS, LOOKS UPON THE ONE WHO LOOKS UPON THE ONE WHO LOOKS UPON…
Kuperus & Miller (aka ADULT.)
Clough-Hanson Gallery is pleased to present The One Who Looks, Looks Upon the One Who Looks Upon the One Who Looks Upon… by Kuperus & Miller (aka ADULT.).
The title of the exhibition comes from a lyric on Kuperus & Miller's upcoming album PERCEPTION is/as/of DECEPTION under the name ADULT. The album consists of nine songs based on the uncertainty of what we see, how we see it, what we do with that information we are delivered day in/day out. The idea of looking and being looked back at is the core of this exhibition. Miller focuses on work that looks at the viewer while being looked at, and Kuperus' work is antithesis as she focuses on the idea of not being seen. Collaboratively, they present an exhibition that addresses both being seen and being unseen.
---
Kuperus & Miller consider themselves poly artists. Their practice include performances, music, installations, sculptures, videos, films, paintings and photographs. They strive to intersect the space between visual art and audio composition. They have performed at places such as The Mike Kelly Mobile Homestead (Detroit), Austrian Cultural Forum (NY) and Roulette (Brooklyn). They have exhibited work at institutions such as Mattress Factory (Pittsburgh), Detroit Institute of Arts (Detroit) and MOMAS (Saitama, Japan). They have shown their films at spaces such as Anthology Film Archives (NY) and Distrital y Cineteca National (MX). They have toured the world extensively as their band ADULT. since 1998.