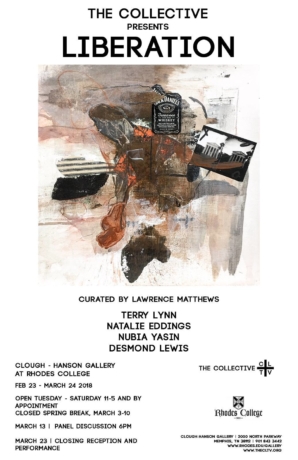 Exhibitions
THE COLLECTIVE PRESENTS: LIBERATION
Terry Lynn, Natalie Eddings, Nubia Yasin, Desmond Lewis
Clough-Hanson Gallery at Rhodes College is pleased to host The Collective Presents: Liberation curated by Lawrence Matthews, featuring Terry Lynn, Natalie Eddings, Nubia Yasin, and Desmond Lewis.

The exhibition will be on view February 23 - March 24. A panel discussion with the artists will take place on March 13 at 6:00 pm in Blount Audiorium. A closing reception and performance will take place in the gallery on March 23. Details will be announced soon.

Please note that there is a closing reception rather than an opening reception for this exhibition.

Located in Clough Hall on the campus of Rhodes College, the gallery is open Tuesday - Saturday, 11 am - 5 pm. The gallery will be closed March 3-10 for spring break. Admission is always free. For more information contact Joel Parsons, parsonsj@rhodes.edu.