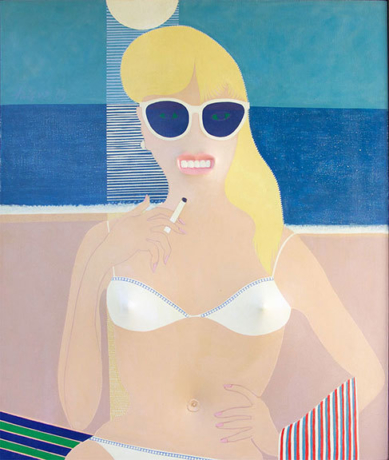 Exhibitions
TED FAIERS: TALK TALK TALK: LATE 70'S
Ted Faiers
This February, Ted Faiers' wood-sculpted canvas paintings and woodcuts from the 1970's take the walls at David Lusk Gallery Memphis.
Faiers' last body of work is comprised of canvases constructed with stretcher armatures and attachments. In these paintings, noses, breasts, eyelashes and shoes protrude from the canvas. Bright colors and two dimensional surfaces with three-dimensional effects elevate the paintings' subjects to characters while the open backs reveal Faiers' heightened interest in engineering and construction in addition to painting.
In a 1971 interview, Faiers said of his work, "I can't claim the paintings are terribly profound, but I have a lot of fun doing them and they may have special meaning to individuals. They can interpret them to their own background and knowledge." Woodcuts feature a cast of characters, both real and imagined, intriguing as his life-size wood-sculpted canvas paintings. These works play off each other, their subjects gabbing across the gallery.
Born in England in 1908 and raised in Western Canada, Faiers moved to New York in his early forties to study at the Art Students League where he met his lifetime mentor Will Barnet. Here he began to hone his distinctive line-making technique and explore influential styles. He later went on to enjoy a career as a professor, teaching, painting and drawing for over thirty years at Memphis College of Art. He successfully maintained his own studio practice—making paintings, drawings, woodcuts and lithographs in a series of connecting additions at his home. Faiers had a strong exhibition history throughout his life. His work moved through several distinct periods before his final output of these three-dimensional figurative canvases. An educator with multitudes of former students, Faiers was, at heart, a working artist.