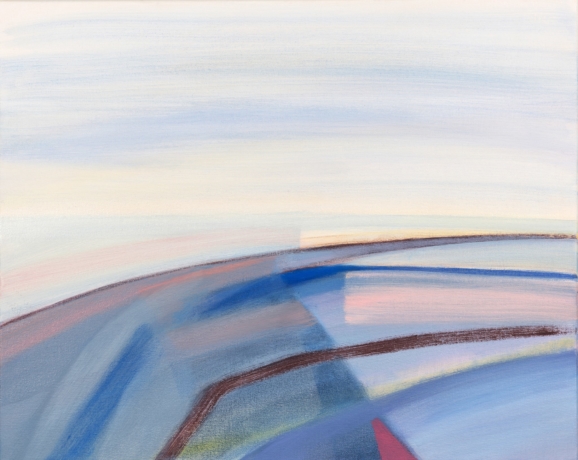 Exhibitions
SUSAN MAAKESTAD: SIGHTLINES
Susan Maakestad
Overton Park Gallery is thrilled to present the paintings of Susan Maakestad in Sightlines, an exhibit featuring work spanning ten years. There will be an opening reception on Friday, May 12th from 6 - 8 p.m. and the show will continue through June 3rd. After opening night, the gallery is accessible through Diane's Art Gift Home Tuesday-Saturday from 11 a.m. - 6 p.m. The show is organized and curated by Nikii Richey.
"I have been painting the urban scene in an abstract manner for fifteen years. At first I painted empty sidewalks and parking lots, transforming the ordinary with diffuse atmosphere and exaggerated color. More recently I began treating the oil paintings as if they were large watercolors, utilizingInternet traffic photographs as the basis for the work. In these recent pieces, the long empty vistas and changing light evoke a degree of wistful contemplation." - Susan Maakestad
For several decades Susan Maakestad has painted abstracted landscapes empty of human activity but filled with brilliant color and recollected light. Her honors include a National Endowment for the Arts fellowship, an ArtsAccelerator Grant from ArtsMemphis and direct purchase awards from the UrbanArts Commission in Memphis. She has been a fellow at the MacDowell Colony and the Virginia Center for the Creative Arts. Her work has been included in "New American Paintings" and has been exhibited nationally. Public collections include the Tennessee State Museum, Memphis Brooks Museum of Art and the City of Memphis. She earned a MFA from The University of Iowa and a B.A magna cum laude and M.A. from Central Washington University. Maakestad is Professor of Art at Memphis College of Art. For more information: http://www.susanmaaakestad.com/
---
Overton Park Gallery is located 1581 Overton Park Ave., Memphis, TN 38112 in the Evergreen Historic District.