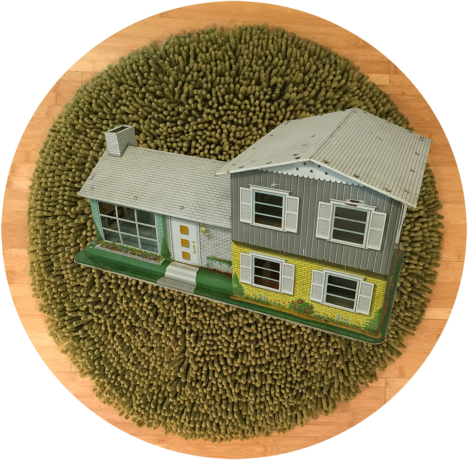 Exhibitions
SUE JOHNSON: HOME OF FUTURE THINGS
Sue Johnson
This exhibition featuring work by the artist Sue Johnson considers the cyclical nature of mass consumption. The exhibition showcases small-scale works on paper as well as floor-to-ceiling vinyl panels and decals that the artist has designed—transforming the gallery into the interior of an ideal, modern home. As the exhibition title suggests, Johnson envisions a world in which the home is nostalgic and familiar yet also reduced to an empty space existing simply to house various things.
Johnson will give a public lecture on Thursday, September 15, 2016, at 7 PM in Room 310 in the Art and Communications Building, located at 3715 Central Avenue.
Image: Sue Johnson, "Shag Lawn," 2016. 48 in. diameter, vinyl floor decal. Courtesy of the artist.