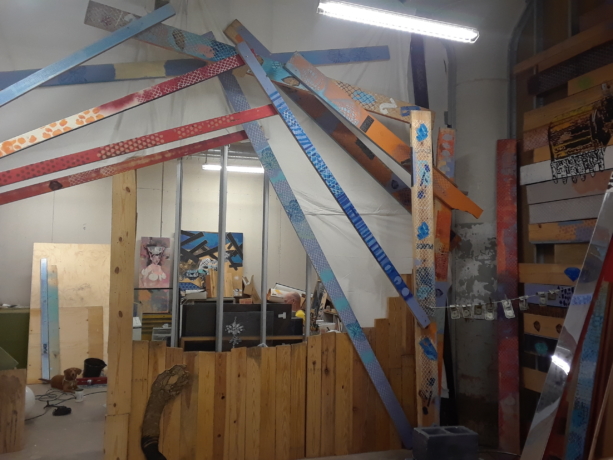 Exhibitions
STUDIO SI POP-UP
Cedar Lorca Nordbye
Studio Sí, a pop-up studio by artist Cedar Lorca Nordbye, is now open at Crosstown Concourse, joining the wondrous landscape of businesses and non-profits that make the former Sears Building an adventure and community under one roof.
Studio Sí is located in the West Retail Corridor, located directly next door to Cheryl Pesce's space, dangerously close to MemPops, and not quite as far down the hallway as Madison Pharmacy.
What is Studio Sí? It is a weird space, a dynamic and undefinable venue on the intersection of play, inspiration, commerce, and discovery. It is an art studio and a shop and a gallery and a laboratory. It is put together by Cedar Lorca Nordbye, artist, teacher, and provocateur.
Can you buy things? Yes, you can trade things (including U.S. currency, or Bitcoin, or hardwood, or honey) for such things as paintings, furniture made from bowling-alley floors, t-shirts, wooden toys, cards, lamps, books, hand-crafted cabinets, sculptures to put on cabinets, musical instruments, recordings of musical instruments.
Can you come make art at Studio Sí? Maybe. Will Cedar be making art at Studio Sí? Definitely. Will Cedar be making other weird things not normally seen as art (at Studio Sí)? More often than not, yes.
Studio Sí will have regular hours from 1pm until 6pm on Wednesdays, Fridays and Saturdays.
Studio Sí will have irregular hours many other days.
For more information, inquiries, suggestions, complaints, email cedarnordbye@gmail.com.