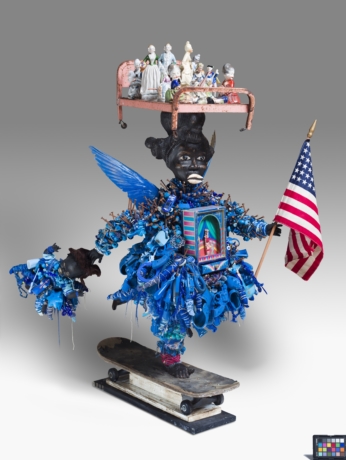 Exhibitions
STATE OF THE ART: DISCOVERING AMERICAN ART NOW
Over the course of one year, Crystal Bridges Museum of American Art's curatorial team logged more than 100,000 miles, traversing the United States to visit nearly 1,000 artists. Traveling to communities large and small, the museum found artists whose work engages broad audiences, demonstrates a high level of skill, and sparks conversation about the important issues of our times. The result of this journey is a one-of-a-kind exhibition drawing from nearly every region and offering an unusually diverse and nuanced look at contemporary American art. State of the Art brings together over seventy works by forty artists in a variety of mediums, including painting, photography, fiber, sculpture, video, ceramics, installation, and more. When State of the Art first opened at Crystal Bridges, the exhibition garnered national attention, precipitated a wider discussion about art in America, and attracted record-breaking exhibition attendance.
State of the Art examines how today's artists are informed by the past, innovate with materials old and new, and engage deeply with issues relevant to our communities. By nature, each artwork reflects the time and place in which it was created. The works are framed by sections describing the human experience. Some artists create images of or about the natural world, whether in quilting fabric, oil on canvas, or through the lens of a camera. Others explore the tradition of depicting the human body through traditional and nontraditional portraiture. The exhibition illustrates how, in the hands of contemporary artists, everyday stuff reveals grace and grit in challenging times, and personal stories open avenues for conversation.
Although the exhibition's featured artists are creating works in new ways, about new subjects, and for a contemporary audience, their work is still a reflection of the world in which we live, it still sparks discussion and debate, and it is still an endless source of discovery. Because it is contemporary, it is also in a visual language accessible to everyone. State of the Art showcases the diversity and talent in our country at this moment, inspiring new discoveries and ongoing dialogue.
Sponsored by: Rose M. Johnston, Irene and Joe Orgill, and Gwen and Penn Owen
Image credit:
Vanessa L. German, born 1976, Artist Considers the 21st Century Implications of Psychosis as Public Health Crisis or, Critical/Comedic Analysis into the Pathophysiology of Psychosis, 2014, Mixed media assemblage, 40 × 55 × 26 in., Courtesy Crystal Bridges Museum of American Art, Bentonville, Arkansas, Photo: Crystal Bridges Museum of American Art, Edward C. Robison III