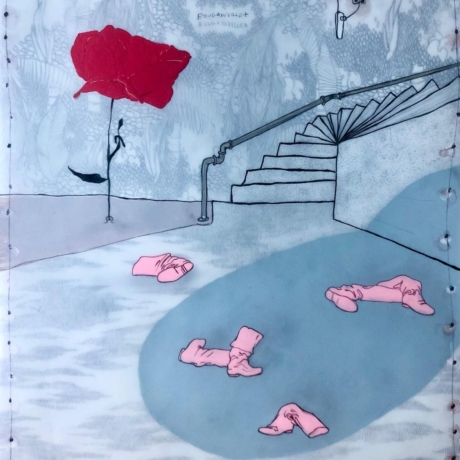 Exhibitions
MELISSA DUNN & JOEL PARSONS: SHIM
2021 Projects / 55 South Main St. November 26 - December 23rd (Reception: December 11 12:01pm - 3:00pm)
Melissa Dunn, Joel Parsons
The two of us have been in each other's studios and lives and brains and hearts for several years. The art you see here is in some ways a product of that intimacy; although we didn't work collaboratively, we couldn't help but work together.
What else resonates, besides fondness? We both work iteratively, perhaps obsessively; we are polishing the stone. We both have an abiding, if ambivalent, love of the languages and potentials of abstraction. We both favor the fecund sludge of accretion to the boiled-down clarity of distillation. We both make art to make sense of the world we find ourselves living in. We both make art to make the world we want to live in. We both love to dance.
We make work. We make pleasure. We make do, with and for ourselves and our people. We shim the shim and shim again.