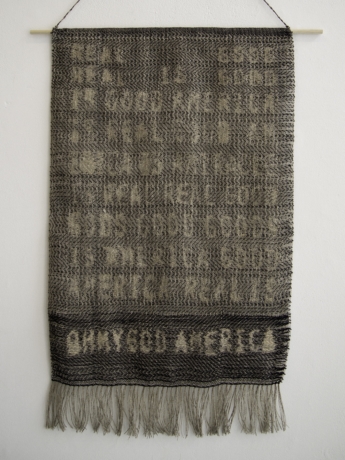 Exhibitions
SAY HELLO TO AMERICA!
Kenneth Alexander
Mary Baddour
Timothy Barker
Nick Canterucci
Len Clark
Saj Crone
Temple Daniels
Judith Dierkes
Charles Dwyer
Brantley Ellzey
Jay Etkin
Adam Farmer
Jan Hankins
Carrol Harding McTyre
Kenneth Johnston
Paula Kovarik
Taylor Loftin
Elysia Mann
Barbi Martin
Sophia Mason
Lester Merriweather
Andrea Morales
Margaret Munz-Losch
Nathan Parten
Alex Paulus
Terri Phillips
Erica Qualy
Carrie Schule
Matt Seltzer
Valerie Shavers
Valerie Sparks
Kyle Taylor
Lance Turner
Jeane Umbreit
Jeff Unthank
Richard Varnon
Keysha Warr
Stephanie Wexler
Jana Wilson
Meredith Wilson
A juried group exhibition exploring the current (absurd?) state of the American political landscape.
"I believe in an America where millions of Americans believe in an America. That's the America millions of Americans believe in. That's the America I love." - Mitt Romney