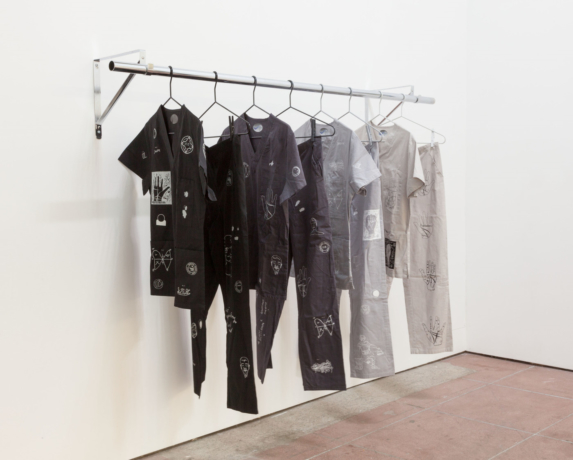 Exhibitions
​SAD MEN ON BAD AFTERNOONS
Natalie Labriola, Joseriberto Perez, Lauren Taylor, Kandis Williams
Tops is pleased to present Sad men on bad afternoons, a group exhibition curated by Daniel Fuller featuring the work of Natalie Labriola, Joseriberto Perez, Lauren Taylor, and Kandis Williams.

Sad men on bad afternoons explores notions of awakenings, of seeing true beauty on the most difficult days. It is a renewal or a heightened awareness of modest moments. The show considers a range of self-preservation techniques from a tropical sunset, physical adornment, to allowing yourself to venture into a new psychic space. Located in a glass box in a busy city park, the work is communal adjacent; sharing at a distance, attempting to connect, to escape, to find exactly what is needed just around that next corner.
---
ABOUT: The Artists
Natalie Labriola (b. 1987, Mesa, Arizona) received an MFA from Bard's Milton Avery Graduate School of the Arts in 2015. Labriola has recently exhibited at Martos Gallery, Los Angeles; Various Small Fires, Los Angeles; Bureau, New York; Cleopatra's, New York; Nicelle Beauchene, New York; Michael Thibault, Los Angeles; LACA, Los Angeles, Night Gallery, Los Angeles, and Boyfriends, Chicago. In 2014, she collaborated with Kate Berlant on a video commissioned by MocaTV for their Art+Comedy series. From 2012 to 2015 she ran a temporary exhibition space called Satellite Space out of a commercial office building in Los Angeles.
Joseriberto Perez was born in Newark, New Jersey and has lived in Miami since the early 1990s. His abstract paintings and sculptures explore Western aesthetics, anthropology, and the role of painting in contemporary society. In 2014, Perez had a solo exhibition at GUCCIVUITTON!, Miami. His work has been featured in several group exhibitions in Miami, including David Castillo Gallery, Frederic Snitzer Gallery, and Butter Gallery, and is represented in the Margulies Collection. In 2007, Perez studied sculpture, painting, and printmaking at The School of The Art Institute of Chicago, where he completed his MFA in 2017.
Lauren Taylor (b. 1992, Nashville, TN) lives and works in Chicago, IL. She received her B.F.A. from The Art Institute of Chicago in 2014. She has had solo exhibitions at: Andrew Rafacz Gallery (2016); Paris London Hong Kong, Chicago, IL (2015); and The John Riepenhoff Experience, Jazz Gallery, Milwaukee. Selected group exhibitions include: Zing Zam Blunder- Harbinger Projects, Reykjavík, Iceland (2017); BRIDGE STRIKE!- Syndicate at Snehta. Athens, Greece (2017); Touch Me I'm Sick- Beautiful Gallery. Chicago (2016); How High? -Left Field Gallery; San Luis Obispo, CA (2016); Lionel Messi, Bahamas Biennial, Detroit (2016); Late November, cornerstone, Chicago (2015); and Earthy Footholds, Disco City #8, Chicago (2015). She will have a solo exhibition with Bahamas Biennale, Detroit in 2017.
Kandis Williams (b. 1985, Baltimore, MD) received her B.F.A. in 2008 from the Cooper Union School of Art, New York. Her recent exhibitions include solo shows at SADE, Los Angeles, and St. Charles Projects, Baltimore, and a performance and workshop at Human Resources, Los Angeles. Her work has also been exhibited at The Studio Museum in Harlem, New York; The Underground Museum, Los Angeles; Neu West and 68 Projects, Berlin; and The Breeder, Athens, among other spaces. Williams has an active curatorial and writing practice, and runs Cassandra Press with artist Taylor Doran. Williams lives between Los Angeles and Berlin.
---
ABOUT: The Curator
Daniel Fuller is the curator at the Atlanta Contemporary. He has curated exhibitions at ice fishing shacks, a swap meet, the JumboTron of a hockey stadium, on public access television, and in several closets. A book of essays titled 'This is not here' will be published in 2017 by Publication Studio.
---
All press inquiries, contact:
Daniel Fuller, Curator, daniel@atlantacontemporary.org