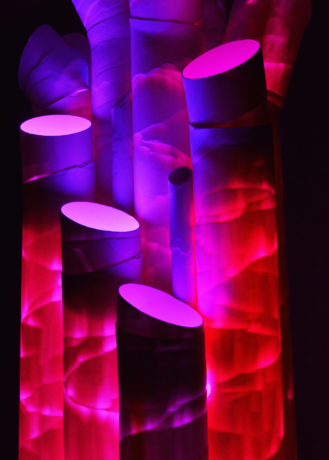 Exhibitions
RUBEN GARNICA: INFOXICATION
Ruben Garnica
The first solo exhibition of recent University of Memphis BFA graduate Ruben Garnica, this exhibition features sound, light, and video installations that grapple with today's information overload, or "infoxication." Garnica creates an immersive, multi-sensory environment in which layers of sound and image overwhelm the visitor, making information almost incomprehensible.
Faculty in the Department of Art at The University of Memphis selected Garnica from the 2016 graduating BFA class for this prestigious solo exhibition. An annual tradition, the exhibition provides outstanding graduates with the opportunity to present a body of work and develop an exhibition concept with Fogelman Galleries staff.
Image: Ruben Garnica, "Mitote," 2016. PVC, LED lights, and speakers. Courtesy of the artist.