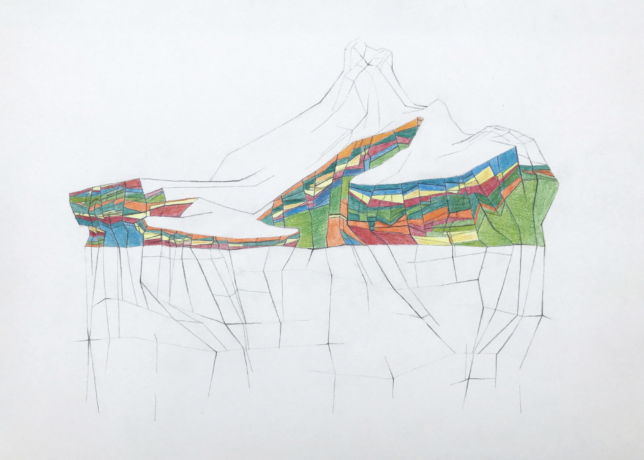 Exhibitions
REBEKAH LAURENZI: SURFACES
Rebekah Laurenzi
Overton Park Gallery is thrilled to present the ink, pencil and mixed media works of Rebekah Laurenzi in her newest show Surfaces. The show opens September 8th and runs through October 6th. After opening night, the gallery is accessible through Diane's Art Gift Home Tuesday-Saturday from 11 am - 6 pm. The show is organized and curated by Nikii Richey.

"Icebergs, rocks, and mountains compile their history in hidden layers that I find visually stunning. Beneath the surface, the patterns of these layers are the history of their changes. I presume they are accidental, but they appear deliberate, almost architectural. As abstract interpretations of these geological forms, my recent ink and pencil drawings explore the relationships between structure and spontaneity, and between nature and design. In the mixed media pieces, I have pursued similar themes, with the use of different materials and methods." - R. L.
Rebekah Laurenzi was born in Memphis, Tennessee and spent eight years living in Minneapolis, Minnesota before moving back to Memphis. She received a Bachelor of Fine Arts degree with a concentration in sculpture from the University of Memphis. After graduating, she began teaching art to children while earning a Masters in Arts and Educations degree. Her work includes sculpture, installation, drawing, and mixed media. http://rebekahlaurenzi.weebly.com/
Overton Park Gallery is located 1581 Overton Park Ave., Memphis, TN 38112 in the Evergreen Historic District.