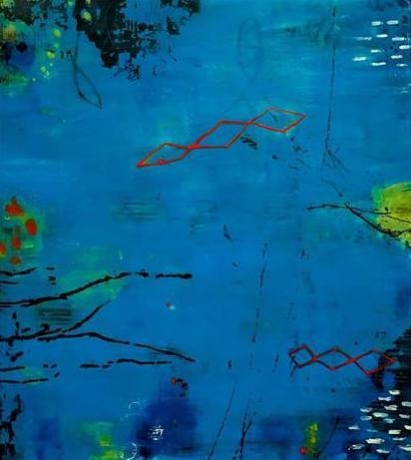 Exhibitions
RANA ROCHAT: WHAT REMAINS
Rana Rochat
Rochat returns to David Lusk Gallery Memphis with all new encaustic paintings on paper.
Rochat's surfaces gleam, although they are created with a depth of marks and layers that belies the actual material density. The forms and marks, with their apparent weight, particular vitality, and intertia live in an environment she attempts to render luminous and transparent. Her method of layering wax and paint on panel creates intense luminosity and dimensionality, and furthers opportunities for her marks and drips to punctuate, intersect and build upon each other. The primary focus is to convey rhythm and cadence through color, line and forms.
The paintings in What Remains move away from the cartoon-like shapes in her older work. She achieves an openness that allows space and lighter colors and textures to play a more prominent role. The whimsical nature of her work is not lost. Without defined foregrounds or backgrounds, they exist as cohesive, lyrical environments of fluid lines, responsive gestures and inventive forms.