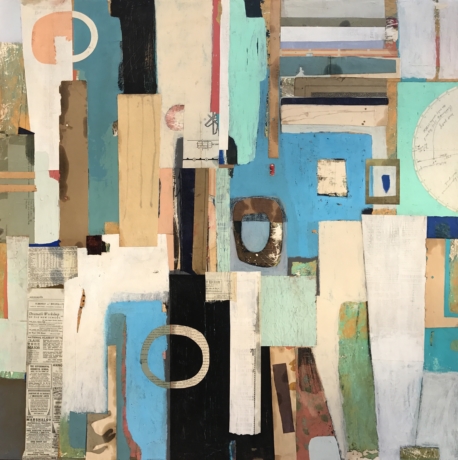 Exhibitions
PORTRAITS, PART III / ONE PERSON'S TRASH….
Leslie Barron
L Ross Gallery is pleased to announce the second solo exhibition for Memphis artist, Leslie Barron. This exhibit opens Wednesday, April 5 with a reception honoring the artist Friday April 7, 6-8 pm, and continuing through April 29. L Ross Gallery is located at 5040 Sanderlin, Suite 104.
A BFA graduate of the University of Memphis, Leslie Barron uses the full gamut of mixed media: acrylics/papers/graphite/oil pastels in her playful work. The artist's original ideas for her long running series Lady Portraits usually take several surprising detours. Over time, the work has become less folk, more elaborate, yet infused with whimsy. Barron loves to paint the human form interacting with nature.
Also included in this exhibition is a second body of work titled One Man's Trash... a group of structural abstract collages incorporating vintage papers and other items. The artist feels mystery in the use of old materials that have been handled, passed around, written on and aged over decades.
"As I look at this show after completion, it strikes me that I am nurturing both my feminine and masculine sides. My hope is that viewers can look at a unified collection and see creative and interesting work." – Leslie Barron