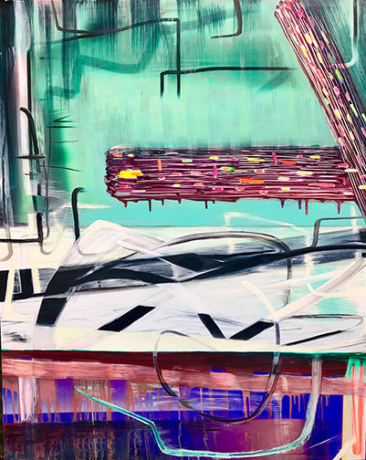 Exhibitions
PINKNEY HERBERT: FULL TILT
Pinkney Herbert
This summer, David Lusk Gallery presents Full Tilt by Pinkney Herbert. In this new body of work, Herbert focuses his attention on the energetic velocity of New York. Since 2008, Herbert has divided his time between Memphis and New York City. Working in both cities has inspired a sense of exploration and a certain amount of nervous energy in his paintings and drawings.
Of his work, Herbert says "my intent is to allow for the funky raw history of Memphis to collide with the frenetic energy of New York City. This dichotomy fires my intuitive impulses, allowing them to surface and meet head on in an ever-changing conflict between the emotional and cerebral. The gestural marks attempt to bridge that gap. During the last few years, my goal has been to expand my abstract language to question and illuminate the connections and contradictions between my interior world and the real world."
Gestural brushstrokes and bold color speak to Herbert's interest in the energy of a city. He considers abstraction to be a powerful language where cool and warm, light and dark, soft and hard play off one another to create visual tension. These contradictions capture the artist's stimulating experience of walking the streets of his two stomping grounds.
Originally from Charlotte, NC, Herbert lives in Memphis, TN and maintains studio spaces in Memphis and New York City. He received his BA from Rhodes College and MFA from the University of Memphis. Herbert earned Fellowships from the National Endowment for the Arts, the Tennessee Arts Commission and USIA-Arts America. In addition to exhibiting across the United States, he frequently shows his work in Japan and Southeast Asia. Herbert is widely collected and represented across the Mid-South.