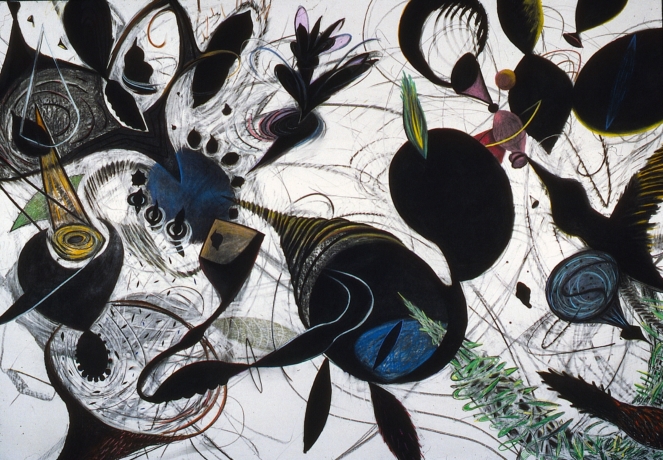 Exhibitions
PINKNEY HERBERT: DISTILLED — THE NARRATIVE TRANSFORMED
Pinkney Herbert
A 30-year survey of Pinkney Herbert's vibrant body of work.
This exhibition tracks Herbert's transition from his narrative beginnings through the development of a personal abstract vocabulary that both thrills and seduces the viewer.
Opening reception: Saturday, May 26, 6-9 pm
Artist Statement:
"Since 2008, I have divided my time between Memphis and New York. Working in both cities has inspired a sense of exploration and a certain amount of nervous energy in my paintings and drawings. My intent is to allow for the funky, raw history of Memphis to collide with the frenetic energy of New York City. This dichotomy fires my intuitive impulses, allowing them to surface and meet head-on in an ever-changing conflict between the emotional and the cerebral. The gestural marks I make attempt to bridge that gap. I am influenced by many other sources, including the figure, architecture, maps, water, music, urban imagery, and digital technology. During the last few years, my goal has been to expand my abstract language to question and illuminate the connections and contradictions between my interior world and the real world."
About the Artist:
Pinkney Herbert was born in Charlotte, NC in 1954. He received his BA from Rhodes College and his MFA from the University of Memphis. Herbert is the recipient of Fellowships from the National Endowment for the Arts, the Tennessee Arts Commission, and USIA-Arts America. He is has exhibited throughout the US, Europe, Japan, and Southeast Asia. His art is in numerous national and international collections and in the permanent collections of the New Orleans Museum of Art, Ogden Museum of Southern Art, Memphis Brooks Museum of Art, and the Arkansas Arts Center, among others.
Herbert is represented by David Lusk Gallery, Memphis, TN; Sandler Hudson Gallery, Atlanta, GA; Boyd Satellite, New Orleans, LA; ADA Gallery, Richmond, VA; and Greg Thompson Fine Arts, North Little Rock, AR. He is a fellow and has served as trustee of the Virginia Center for the Creative Arts (VCCA), Amherst, VA (2008-2017). He currently serves as president of VCCA-France, a residency program in Auvillar, France, and has served on that board since 2009. He is also the founding director of Marshall Arts, an alternative gallery, performance, and studio space he established in Memphis in 1992. For the past ten years, he has divided his time equally between New York and Memphis.
In November 2015, the Ewing Gallery of Art and Architecture at the University of Tennessee, Knoxville mounted a 30-year survey of Herbert's work entitled Distilled: The Narrative Transformed. In 2013-2014, Herbert was awarded a year-long studio as part of the Marie Walsh Sharpe Foundation Space Program in Brooklyn, NY.
Herbert has taught painting and drawing at the University of Georgia Study Abroad Program in Cortona, Italy, and also at the Penland School of Crafts, the Arrowmont School, the Telluride School of Painting, Rhodes College, the University of Memphis, and the Memphis College of Art. He has been a visiting artist at the University of Tennessee, Knoxville, TN; the Academy of Fine Arts, Helsinki, Finland; the Institute of Fine Arts, Lahti, Finland; the Academy of Fine Arts, Prague, Czech Republic; University of Fine Arts, Hanoi, Vietnam; and the Oberfalzer Kuntzlerhaus, Schwandorf, Germany.