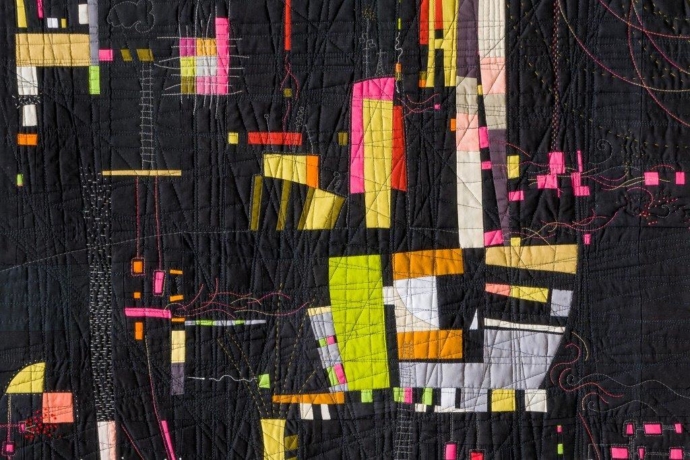 Exhibitions
PAULA KOVARIK
Paula Kovarik
The works on view in the exhibition Paula Kovarik from opening day on January 14, 2018 through April 1, 2018 comprise the artist's first major museum show as well as the Dixon's first Mallory/Wurtzburger Galleries exhibition dedicated solely to fiber art. Memphis artist Paula Kovarik's unique approach to quilted art is the result of dedicated studio practice and a desire to have an outlet to help her process the complexities of modern life. Her work, which combines her interest in science, graphic design, painting, and textiles, defies traditional connotations associated with fiber arts through an insistence in abstract and asymmetrical forms, dark-colored fabrics, and often political messages. The exhibition highlights the full range of Kovarik's skills, apparent in her small studies of organic motifs to tradition-rooted large narrative works to bold, completely abstract works. Alive with a kind of spontaneity and movement not normally associated with quilts, each piece allows Kovarik to express her feelings about chaos and uncertainty of contemporary American life and reveals the result of her quest to make the invisible visible.
The opening reception for Paula Kovarik will be on Thursday, February 15, 6:00-8:00pm, and admission is free.
The artist will be the guest lecturer at Munch and Learn on Wednesday, February 21, 12:00-1:00pm in the Winegardner Auditorium. (Free for Dixon Members; non-members, free with regular admission)
She will lead the workshop Follow the Thread with Paula Kovarik on Saturday, February 24 at the Dixon. (Dixon Members $35; non-members $45)
---
image: Paula Kovarik, Signals (detail), 2017. Fabric, thread. Image courtesy of the artist.