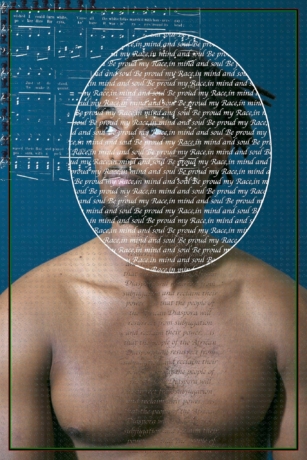 Exhibitions
NATALIE EDDINGS: PRESS
Natalie Eddings
Press, the first solo exhibition of the University of Memphis alumna Natalie Eddings (BFA, 2018), is a vicarious navigation of intergenerational, racial trauma and minority stress - where it comes from, what it looks like, and how, perhaps, how we deal a with it. The exhibition observes the collisions of the term "press" - of the past and the present, formalized in the bodies and souls of oppressed peoples featured in Eddings' layered photographic portraits.
In the exhibition, Eddings creates a dichotomy of the word "press." On one hand, she interprets it as the press, or media coverage, journalism, and the distribution of news. This understanding of "press" is described, in part, by the First Amendment of the Constitution. On the other hand, she considers "press" as a root word derived from the Latin pressare which means to press down, hold fast or hold down, cover, crowd, compress. This is the basis for such words as impress, depress, oppress, suppress, repress, and others. She ascribes this understanding of the word to the essential nature of oppressed peoples.
Faculty in the UofM Department of Art selected Eddings from the Fall 2017 and Spring 2018 graduating Bachelor of Fine Arts classes for this prestigious solo exhibition. An annual tradition, this exhibition provides an outstanding graduate with the opportunity to present a body of work as well as develop and execute an exhibition concept with Fogelman Galleries staff.