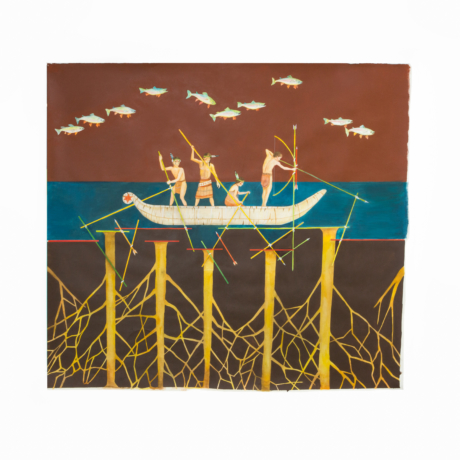 Exhibitions
OLLY OLLY OXEN FREE
Pam McDonnell
Stephanie King
Sloane Bibb
L Ross Gallery's June exhibition features the work of Memphis artists Pam McDonnell and Stephanie King and Alabama artist Sloane Bibb. Titled Olly Olly Oxen Free, this exhibit opens June 1 with a reception honoring the artists from 6-8 pm and continues through June 30. L Ross Gallery is located at 5040 Sanderlin Avenue, Suite 104.
The exhibit title, Olly Olly Oxen Free, refers to a phrase used in children's games, indicating people who are hiding may come safely into the open. Collaborative team Stephanie King and Pam McDonnell run with this theme creating eight large playful paintings where clever prey outsmart their hunters.
Sloane Bibb's tactile works tell a similar humorous story through the use of found objects and retro print ephemera heavily influenced by advertising and graphic design, an industry in which he worked professionally for many years.