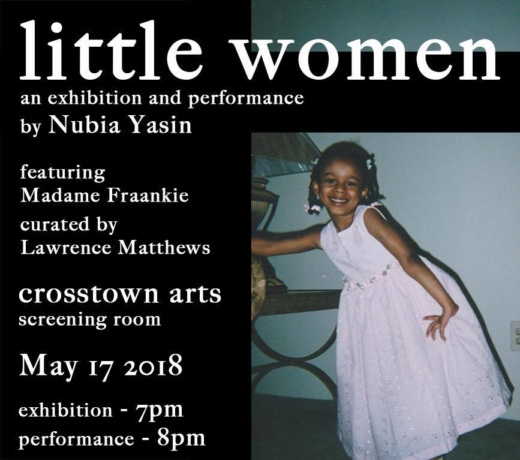 Exhibitions
NUBIA YASIN: LITTLE WOMEN
Nubia Yasin
On May 17th, Artist, Poet and filmmaker Nubia Yasin will transform the Crosstown Arts Screening room (Concourse, Suite 280) into a photography and installation based exhibition where in which she will perform a series of six poems inspired by her childhood as a first generation Somali-American woman. Each piece is woven together to expose the attitudes and narratives surrounding black women and sexuality, the way it is controlled, forced, and snatched away simultaneously from the time a black girl is old enough to wear a training bra, sometimes even younger.

The exhibition is curated by artist Lawrence Matthews and the performance features musician Madame Frannkie.

FREE ENTRY
EXHIBTION 7PM
PERFORMANCE 8PM

Nubia's Statement
"I'm a host of things, but most inescapably, I'm a black woman. Born of two black parents, in a country like this one.
The journey it takes to go from black girl to black woman is unlike any other coming of age story; one that is more deeply rooted in trauma then I would like to admit. Before even realizing this fact, I was writing about it. Writing poem after poem about girls learning silence from their mothers, who learned it from their mothers. Generation after generation of women who grow smaller and smaller in the face of their demons. I wanted to make a body of work that gave these women (and myself) room to stretch, to talk, to release. Little Women is meant to "open the blinds" so to speak. Featuring the old family photos is meant to contrast the outward appearance of growing up, which is fairly innocent, with the reality of trauma. It's set in a living room because, often times, that's where the breaking of our women happens: in our own homes. Due to a constant cycle of shame and secrecy, it's an unfortunate truth that what happens in our homes stays in our homes for the most part.
Every story in Little Women is a story about a girl who looks like me, who is me. This isn't just my story… It's our story."