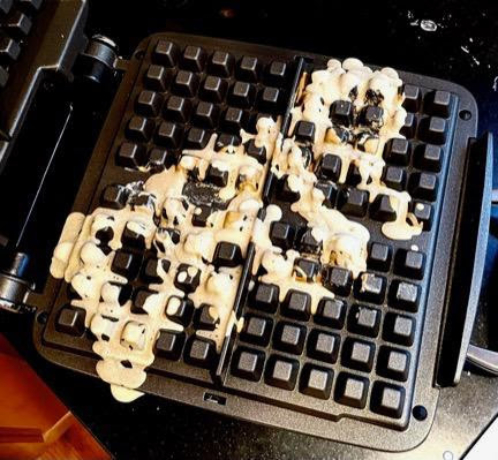 Exhibitions
KEVIN FORD: DRIP
Kevin Ford
Tops Gallery is pleased to present Drip, Kevin Ford's solo exhibition at our Madison Park space. This is Ford's third solo show at the gallery.
In Drip, over 140 paintings of sports shoes are displayed like artifacts on crisply aligned white shelves, punctuated by brightly colored swatches of paint describing each shoe. The vitrine-like space of the Tops Madison Park location lends itself to display and Ford highlights the fetishization of the luxury goods market by singling out each item as an object of desire.
The drip in the history of Western painting has often signified authenticity, struggle, spontaneity, or uniqueness, making painting as much of an event as an object. Drips are a calling card of the New York School and subsequent generations have taken on the drip as subject. In Robert Rauschenberg's paintings Factum I and Factum II from 1957, Branden Joseph described the drips (or "hinge" strokes) "as quotations or allegorical appropriations of expressive gestures." When Rauschenberg intentionally recreated seemingly spontaneous moments of drips and slashes of paint from one painting to the another, he not only created new imagery for painting to explore, but also invented a new relationship between painter and paint.
A second meaning for drip, in common parlance, refers to one's personal style or swag. Ford is roughly the same age as Nike Air technology, and the two have grown and evolved at the same time. During the mid-'80s, there was a period of transition in sneaker design, moving from utilitarian functionality toward a looser, street-based, inspirational and aspirational form, connecting engineering and design cultures.
As a kid, Ford drew endless configurations of exaggerated and outrageous iterations of the Air chambers of the Nikes that he saw in shops and advertisements. The drawings were so voluminous and intense that his mom sent many of them to Nike, in a gesture similar to that of sending a letter to Santa Claus, but in this case, an American consumerist version, with a child writing to a faceless corporation. Though they never wrote back, the style and colors of the Nike Air silhouettes still have had a huge impact on Ford and have continued to influence both his palette and his palate.
With Drip, Ford creates an amalgam of Oldenburg's 1961 "The Store," Warhol's monotonous grid of Campbell's soup cans, and Andreas Gursky's monumental 1997 photograph Untitled V depicting a sterile luxury shoe display. By leaning each painting on rows of shelves, Ford simultaneously aligns the individual works with the sneaker store displays and personal collections of sneakerheads from which the installation takes its inspiration, as well as asserts each painting's objecthood. The installation compounds interpretation in highlighting each work's occupation of three spatial realities at once: painting as object, the image as illusion, and the various drips and stains remind the viewer once again that they are looking at paint sitting on top of a flat surface.
---
Kevin Ford (b. 1975, Stamford, CT) received his BFA in Painting from Boston University, and his MFA from Yale. His work has been included in solo exhibitions at 12.26 Gallery, Dallas, TX, Semiose Galerie, Paris, FR, Kate Werble Gallery, New York, NY, and at Tops Gallery, Memphis, TN. Ford's work has been exhibited in group exhibitions at The Center for Maine Contemporary Art, ME, Marquee Projects, NY, Inman Gallery, TX, Reyes-Finn, MI, Casey Kaplan, NY, Allen Gallery, NY, The Islip Art Museum, NY, and elsewhere. He has a forthcoming project with Dieu Donné paper, will be an artist in residence at the Chateau d'Orquevaux Residency in France, and will be presenting a solo booth of his work with 12.26 Gallery at Intersect Aspen art fair later this summer. His work has been featured in V Magazine, included in the book Artists II, published by Steidl, and has been reviewed in Artforum, The New York Times, as well as other publications. He currently lives and works in Connecticut.