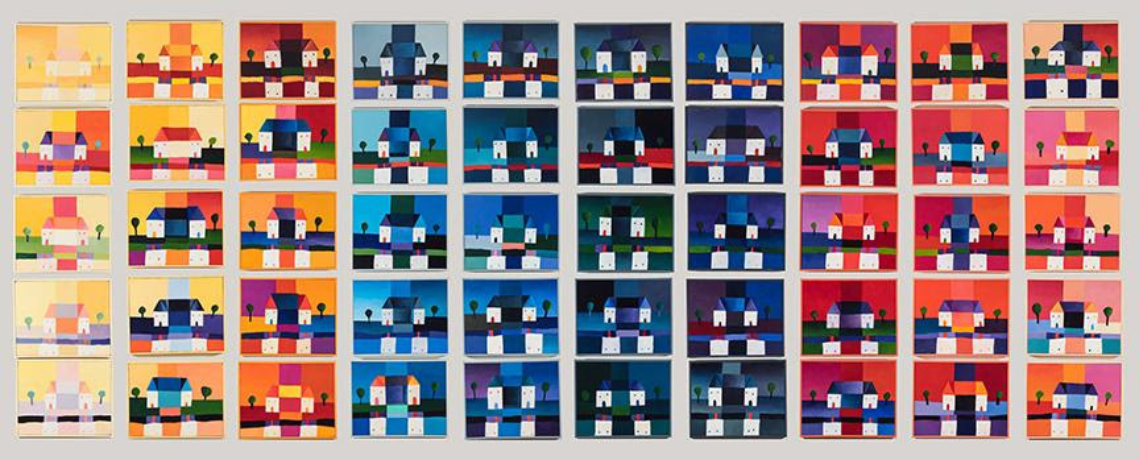 Exhibitions
NANCY CHEAIRS: MANY MANSIONS
Nancy Cheairs
Tops is pleased to announce an exhibition of Nancy Cheairs' Many Mansions at our Madison Avenue Park gallery.
A single work comprised of fifty canvases, each measuring eleven by fourteen inches, Many Mansions replicates the image of an archetypal house. The structure is doubled or mirrored both horizontally and vertically, creating paintings that resemble geometric abstraction as much as the clear representation of a house. The individual paintings were made at the end of the day in Cheairs' studio between 1984-1985 and the completed work was first exhibited at Schmidt-Bingham Gallery in New York in 1987. At a time when Neo-expressionism was at the height of its influence, Cheairs work eschewed the heroic for a process that was methodical and cumulative. Begun intuitively, the repeated paintings revealed themselves as an idiosyncratic color wheel that invoke both the weather map as well as the calendar. Independently, the deeply-hued paintings describe domestic isolation in a domestic size but Many Mansions is more apt for a public context where communal viewing is unavoidable.
Nancy Cheairs (b. Memphis, TN) holds a BFA from The Memphis College of Art (1980) and an MFA from The University of Memphis (2007). Her work has been in solo and group exhibitions in galleries throughout the country. Her paintings are in many private and corporate collections as well as the permanent collection of The Brooks Museum of Art and The Tennessee State Museum.
In 2010, she founded Flicker Street Studio - an art school that provides programs that differ from existing degree-focused schools. Cheairs believes that an art education should be accessible to all ages and all skill levels. She lives and works in Memphis, TN