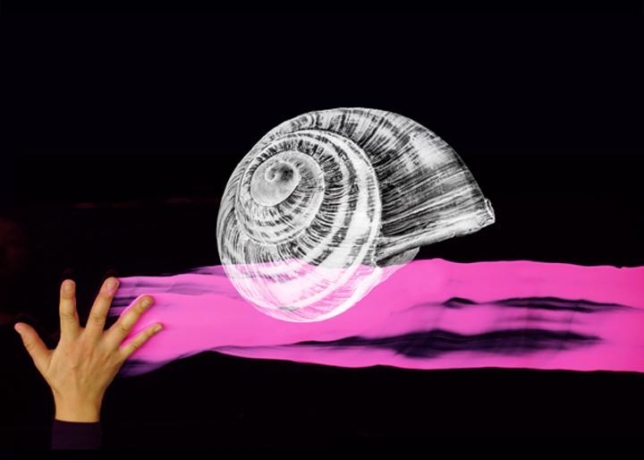 Exhibitions
​MOTOKO FUKUYAMA: LA BOHÈME
Motoko Fukuyama
Tops Gallery is pleased to present La Bohème, an exhibition of new film and sculpture works by Brooklyn-based artist Motoko Fukuyama. The film portion of La Bohème merges documentary and fictional-fantasy genres and draws out the artist's interests in research, collaboration, performance, and storytelling by using narrative as a function of lived experience and investigating its aesthetic potential through the use of sculptural and theatrical elements. The artist turns a sympathetic gaze on her sister, Naoko, who has been in the throes of depression and bipolar disorder for most of her adult life. Tracing the roots of Naoko's mental state via her obsession with Adrian Vandenberg of Whitesnake, her turtle Rin chan, and her weekly escape into the thirty-years-and-running Japanese manga comic Crest of the Royal Family, Fukuyama's sculptural elements are used in the film to reconstruct her sister's story, some of which are installed in both of Tops' spaces, and further thread and flesh out its disparate narrative themes.
In Tops at Madison Avenue Park, Fukuyama references the Japanese avant-garde dramatist Shuji Terayama's writings on freedom with her series of silkscreens depicting slugs and snails on clear and black mirrored surfaces as a non-linear story of bohemianism, placed behind irregularly-shaped frames, the off-kilter geometries of which is inspired by manga comics' framing style to dramatize the action. In Tops Gallery's cavernous space on Front Street, the fuchsia stand-alone sculptures extend, echo, and frame the tomb-like architecture of the gallery's irregular stone entryway. Projecting inward, viewers are invited in through this chamber-like apparatus where the repeating forms suggest not only the portal through which Naoko is subsumed, but also as an object of registering perceptual distortion.
---
Motoko Fukuyama (b. 1981 in Chiba, Japan) graduated from Memphis College of Art in 2004. Motoko lives and works in Brooklyn, NY. Her work has been exhibited both nationally and internationally. In 2017, she completed Session program at Recess, NYC. Motoko is also a 2015 Rema Hort Mann Foundation Emerging Artist Grantee, a 2017 MacDowell Colony Fellowship recipient, and has been awarded a 2018 Yaddo residency.