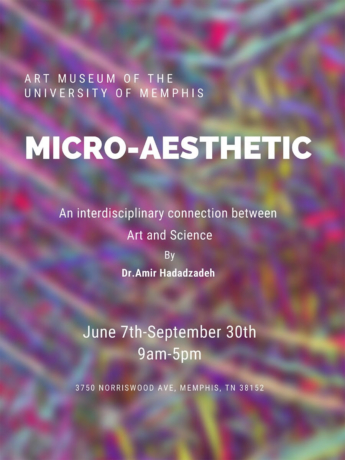 Exhibitions
MICRO-AESTHETIC
Moving by the geometry of the metal structures, and examining their features, Hadadzadeh aims to tailor a connection between the nano- and micro-features* and the everyday-life patterns. Using his interest and insight, Hadadzadeh has realized that his microscopic images possess something beyond intellectual merit: aesthetic and artistic characteristics.
Abstract art can be interpreted and read in its very form - its shapes, colors, and lines. According to Rothko, an American abstract painter, "art is an adventure into an unknown world." Inspired by Rothko, Hadadzadeh is trying to bring the unknown world of science to the adventurous world of art.
This exhibition is presented by Dr. Amir Hadadzadeh, an Assistant Professor in the Department of Mechanical Engineering, University of Memphis, whose research is in the field of advanced manufacturing and materials.