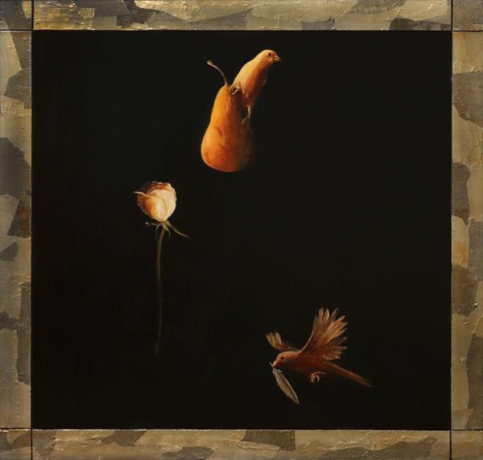 Exhibitions
MICHAEL CRESPO: REMEMBERING
Paintings by Louisiana artist Michael Crespo (1947-2010) are on view at David Lusk Gallery Memphis beginning in mid-February 2022. REMEMBERING features a collection of paintings on panel from the mid-1990s.
Crespo is recognized for striking representational paintings of fish, animals, fruit, and flowers. His haunting oil paintings on panel re-establish the universal spiritual connections between man and the natural world. Crespo's dreams that share connections with Italian Renaissance painting and Jungian theories inform the imagery for these magical realism depictions of sea life and birds.
Crespo's paintings are characterized by strong contrasts between light and dark; black expanses ground the subjects in this exhibition. Crespo said of his paintings, "My images are simple, their origins complex. I am trying to understand the messengers as well as the messages, and while some of the messages are troubling, in my mind the paintings are all foaming with redemption, the result, I suppose, of attempting to stabilize the terrifying in the light and grace of beauty."
Michael Crespo was born in New Orleans in 1947 and moved to Baton Rouge as a child. He attended Louisiana State University, where he earned a BFA, and received an MFA from the City University of New York in 1970. The following year he returned to Baton Rouge to join the LSU School of Art. A leading faculty member, Crespo taught for 40 years, serving as Director of the program from 1990-1996. His work is in many prestigious public and private collections across the Southeast.