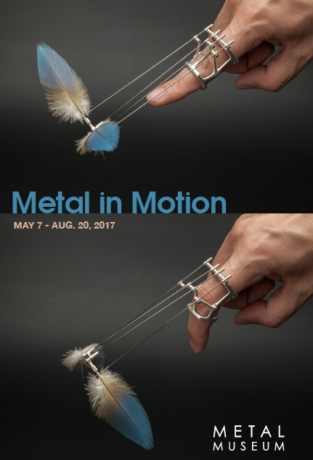 Exhibitions
METAL IN MOTION
Sven Bauer, Michael Chmielewski, Jennifer Crupi, Sarah Doremus, Mariko Kusumoto, Nash Quinn, Patrick J. Quinn, Timothy Schaeffer, Gary Schott, Dukno Yoon
The Metal Museum is pleased to announce Metal in Motion, an exhibition featuring ten artists whose work involves moving parts and celebrates kinetic possibilities. The show will be on display MAY 7 - AUG. 20 with a closing reception and gallery talk on Sunday, AUG. 20, 12PM - 2PM.
The work featured in Metal in Motion includes hand operated sculpture, quirky devices, and movable jewelry, inviting the viewer to interact with the art. Several pieces have a practical function and assist the user in everyday activities. Other works are humorous and offer time for playing and entertaining our mechanical curiosity.
"By viewing and interacting with the work, I seek to make us look at ourselves and ponder the underlying reasons for our seemingly casual gestures," says exhibiting artist, Jennifer Crupi.
Visitors will be permitted to interact with select pieces in the exhibition while video components will demonstrate the use and movement of more delicate works of art.
---
ABOUT THE METAL MUSEUM:
The Metal Museum is the only institution in the United States devoted exclusively to the advancement of the art and craft of fine metalwork. This is achieved through exhibitions, collections, conservation, restoration and consulting services, classes, internship opportunities, artists residencies and apprenticeships, research and onsite fabrication of artwork and architectural elements. http://www.metalmuseum.org/
The Metal Museum receives ongoing support from: ArtsMemphis, Tennessee Arts Commission, Hyde Family Foundations and the Windgate Charitable Foundation. Special support for this exhibition was made available through the ArtsMemphis Jeniam Technology Grant.
*Please note: free street parking is available along Metal Museum Drive.