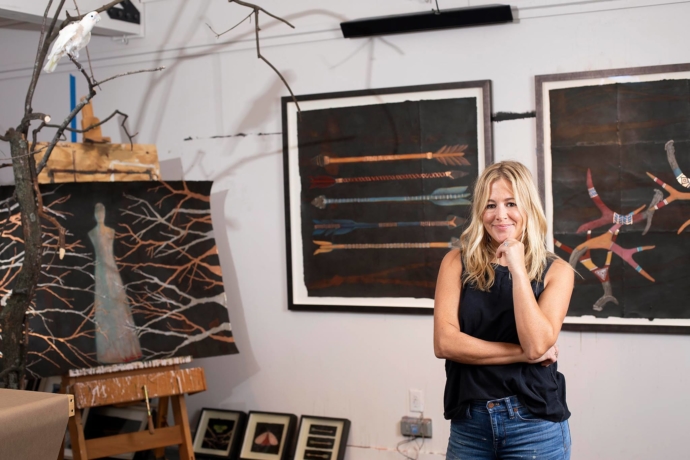 Exhibitions
MEGAN HURDLE: BEYOND THE WOODS
Megan Hurdle
A painting of a butterfly entitled Wise Whispers is surprisingly bold, even masculine, and that is indicative of the versatility of painter Megan Hurdle. Hurdle's next solo show, Beyond the Woods, will be October 26 & 27 at Crosstown Arts, 430 N. Cleveland.

Hurdle's mix media approach may at once bring a normally light medium like watercolor or chalk into contact with heavy materials such as metal staples or brown craft paper. Over the years her themes have ranged from kimonos to cow skulls with a singular dexterity of balance. Her use of finishes adds a dimensional quality to her pieces.

She literally breathed in art as a small child, watching her mother and her aunt create. Now with children of her own, Hurdle relishes the creative refuge of her studio between the ring of school start and end of class bells. "This is not just something I do, art is who I am; I cannot imagine not designing and implementing to produce my painting," said Hurdle.

She has shown this year at the Horton Gallery in New Orleans, the ArtExpo in New York, and as part of a group show at L Ross Gallery in Memphis. She has spent several months preparing for her two-day, pop up, solo show at Crosstown. "I love the space and have shown there in the past. It was an early outpost for arts while the Crosstown Concourse was being developed and remains a vital and vibrant resource for new art," she added.

The opening reception for the show will be on Friday, 26 October, from 5 – 8 pm and the show will be open on Saturday, 27 October, from 10 am – 4 pm. See more about Hurdle and her work at meganhurdle.com.