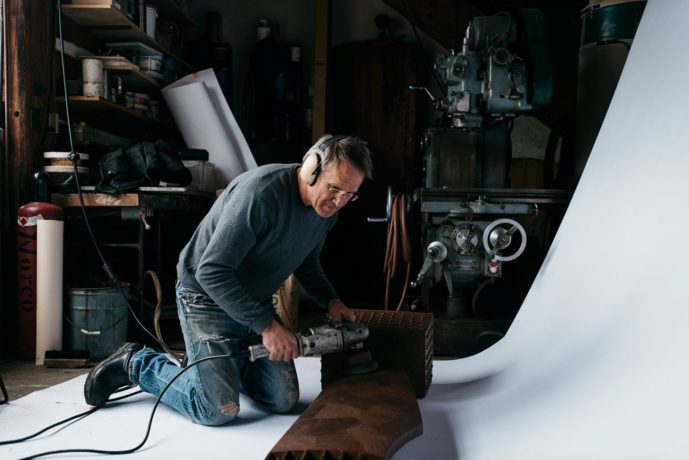 Exhibitions
MASTER METALSMITH: DAVID SECREST
David Secrest
The Metal Museum is pleased to announce Master Metalsmith: David Secrest, an annual exhibition showcasing artwork from the Metal Museum's 2017 Master Metalsmith.
Master Metalsmith: David Secrest will open on Sunday, September 3 and runs through Sunday, December 31, 2017. The Metal Museum will host an Exhibition Reception & Gallery Talk with the artist on Friday, September 22 at 5PM with the Gallery Talk beginning at 5:30PM.
The 2017 Master Metalsmith is David Secrest, a sculptor and blacksmith well known for his incorporation of textures and patterns in forged iron, fabricated steel, bronze sculptures and furniture. Secrest gained his appreciation of craftsmanship from his experience as a son of a potter and painter, as opposed to through a formal arts education. Living in rural Montana, he has created an isolated environment for to experiment and problem solve away from the influence of other mainstream artists. While Secrest's works may seem to reference a multitude of historic cultural aesthetics, he prefers those references to be abstract instead of specific.
"Natural objects provide the basis for my sense of design: however, it is the conceptualization of structure and the intentional manipulation of materials that hold my interest," Secrest states.
Secrest believes the viewer should experience his work without being burdened by the artist's intentions but bring their own interpretation to the artwork.
The Metal Museum will publish an exhibition catalog featuring a broad scope of Secrest's work including some work in the exhibition and work not included in the show. The exhibition catalog will be available for purchase in the Museum Store and online at www.metalmuseum.org.
---
ABOUT THE METAL MUSEUM:
The Metal Museum is the only institution in the United States devoted exclusively to the advancement of the art and craft of fine metalwork. This is achieved through exhibitions, collections, conservation, restoration and consulting services, classes, internship opportunities, artists residencies and apprenticeships, research and onsite fabrication of artwork and architectural elements. http://www.metalmuseum.org/